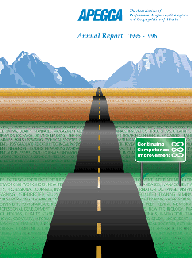 President's Report
John R. Wood, P.Eng.

It has been an immense privilege to serve as your President for the 1995-96 term. I will look back for the rest of my life at this year, and fondly recall it as one of the most interesting, and certainly one of the busiest of my life. With the support of Council, the Executive Committee, our Executive Director and his staff, and especially those hundreds of volunteers who are the lifeblood of APEGGA, I feel I have been able to faithfully discharge the responsibilities of this sometimes daunting office in a responsible and professional manner, and have tried hard to live up to the excellent standard set by my 75 predecessors.

I started down this path nine years ago, under the strong leadership of Jim Denis, P.Eng., and accompanied by three newly-elected Councillors, two of whom became my immediate predecessors, Tony Howard, P.Eng., and Dave Devenny, P.Geol., P.Eng. The Council of '87 sure has acquitted itself admirably!

APEGGA has been likened to a large ocean tanker, which can be steered and directed away from shoals and stormy waters, but cannot stop quickly or change direction suddenly. Perhaps a better analogy would be the Titanic, which was considered by its designers and builders to be unsinkable, and which suffered its ignominious fate because the captain didn't pay attention to how threatening an iceberg really is, with most of its dangers well hidden below the surface. We must be vigilant to challenges facing our Association, the obvious ones, as well as those less visible, and must be prepared to change course as necessary.
---
Branch Visits
One of the most satisfying tasks the President undertakes is to personally visit every APEGGA branch across the province, from Peace River and Fort McMurray in the north, to Medicine Hat and Lethbridge in the south, to Yellowhead in the west, and Vermilion River in the east. It makes for a lot of travel, but let me tell you, it's very much worth the effort. The spirit and enthusiasm of the branch people is unequaled, as is the opportunity to see local projects and historical sites. Meeting local politicians and talking with the local press corps gives lots of high-profile exposure for the Association, and reinforces the bonds between the tireless volunteers at the branch level and our otherwise strongly urban Association.
---
Member Induction Ceremonies
This year marked the introduction of official ceremonies to welcome new members of APEGGA, including new graduates, new arrivals in the province, and members joining by transfer from other jurisdictions. These ceremonies are planned for Calgary and Edmonton several times each year, to handle the large number of new members in a reasonably personal and meaningful way. During my visit to Fort McMurray, I was privileged to participate in the first-ever Member Induction Ceremony held at the branch level. Based on the success of the event, I'm sure we'll see it take place at many of the branches very soon.
---
Visioning for the Future
The Canadian Council of Professional Engineers (CCPE) is the national coordinating body for the 12 provincial and territorial engineering associations across the country. At its November 1994 meeting, the board of CCPE committed to an 18-month process of coming up with a strong and coherent vision for the engineering profession in the 21st century. Chaired by Alberta's Director to CCPE, Bill Fraser, P.Eng., the exercise is all but complete. The constituent associations are critically examining the proposed vision to see how it meets their individual needs, as well as the needs of the profession across Canada as it marches confidently toward the new millennium.
---
Recognition of Geoscientists
Progress continues to be made in this area, which APEGGA has been championing for many years. Currently, four provinces and territories jointly license engineers and geoscientists, and seven others are expected to do so in the near future.

At the national level, after years of strong urging and relentless lobbying, CCPE at its November 1995 meeting approved formation of the Canadian Council of Professional Geoscientists to be the national coordinating body for geoscientists. The CCPG has been set up initially for a two-year trial period. Its initial mandate is to generate support from the provincial associations, to set out a realistic working budget and business plan, and to demonstrate its viability. APEGGA continues to work very closely with the new CCPG executive, providing assistance and support.
---
Legislative Update
Over the course of the last few years, APEGGA's members approved a number of changes to our Act and Regulations, including some which were specific responses to the government's document Principles and Policies Governing Professional Legislation in Alberta. These include such items as opening up the discipline process to the public, adding more public members on Council and boards, and increasing the experience requirement to four years before professional registration. APEGGA has worked long and hard with the government to implement these changes, in spite of opposition from small, special interest groups that believe it's their inherent right to have things go their way or no way at all. We firmly believe these changes are for the best, and reflect a positive and responsible reaction to changing societal expectations.
---
Re-engineering APEGGA
Realizing how much the political climate we operate in has changed in recent years, Council decided last spring to accept in principle a revised governance model, one which would allow it to govern in a manner emphasizing strategic leadership, proactivity and long-term visioning, Dan Motyka, P.Eng., led a task force which looked in depth at responsibilities and accountabilities for the President, Executive Committee, Executive Director, Council, staff and volunteers. Their recommendations were accepted in February, and Council will begin implementing the new process. In this era of continuing change, it's necessary that organizations like APEGGA periodically review their inner workings, and improve when necessary.
---
Other Groups
No presidential report would be complete without mention of other groups that interact with the engineering, geological and geophysical professions in Alberta. APEGGA has spent what I personally consider to be an inordinately large amount of time, and has been excruciatingly accommodating of requests from others to have some share of the scope of practice our professions enjoy under legislative mandate.

The Alberta Society of Engineering Technologists (ASET) is one such group, and has been single-minded in its pursuit of independent legislation which would give it control over what it calls "the practice of applied science technology and engineering technology", which is, in fact, the practice of engineering. ASET has been forceful in its arguments, which it bases on a combination of political rhetoric, innuendo, half-truths and emotional appeal. So far, APEGGA has been successful in persuading the government that granting ASET its wish will have the strong possibility of seriously endangering public safety. The struggle is not over, and we must remain flexible but firm.

During the fall of 1995, Second Vice-President Don Ferrier, P.Eng., and I spent innumerable hours in meetings with MLA Heather Forsyth and two elected ASET officials, trying to come to a mutually agreeable solution, to no avail. APEGGA is continuing efforts to establish cooperation and respect with ASET by following a process similar to what has worked successfully in British Columbia and Ontario.
---
APEGGA's Volunteers
Earlier on, I suggested that volunteers are the lifeblood of the organization. Through countless hours and tireless effort, they serve on Council, committees, boards, task forces, outside groups, branch committees, school visitation programs and other activities too numerous to list. It has been estimated that volunteer efforts amount to nearly 50,000 hours per year. At the very conservative valuation of $40 per hour, that's equivalent to $2 million, or approximately 40 per cent of APEGGA's annual budget! I doubt that any other professional organization in the province can match that amount of selflessness.

One of the greatest moments of my term this year was attending the Excellence in Education ceremonies, where APEGGA presented scholarships and medals to some of the most academically proficient young people in Alberta, as well as to many superb teachers. With this calibre of youth coming along, the Alberta Advantage is well assured.
---
Conclusion
It's hard to know where to start with thanking all those who have supported me during my term of President. Certainly, our Executive Director Bob Ross, P.Eng., has to be at the top of the list for his valiant efforts in keeping everything on track, and for his painstaking background material on every issue. Bob has indicated that he'll be retiring within the next year, and I know it will be difficult to fill his shoes. Council has been very supportive during this busy year, and I sincerely appreciate that. Most of all, I thank my wife Marty for her support, encouragement and love. Without that, I never would have succeeded.

Once again, my thanks to the members of our dynamic and vibrant Association for having elected me to the highest office in APEGGA, and giving me the opportunity to serve as your 76th President. I pass the torch to Fred Otto, P.Eng., on April 19th, and I know he will acquit himself very well as your next President. Thank you.
---
[Next Report]
|
[Table of Contents]