Last year's Summit Awards was a first for a number of things: the APEGGA Song, The Alberta Ingenuity Fund Research Excellence Award and the APEGGA Art Show. The Art Show was met with an overwhelming success. We had a total of 15 displaying artists contributing a combined total of 52 pieces. There were two APEGGA spouses, two graphic artists from permit holding companies and tem professional engineers. The range of work varied from tiny 5" prints to a 12' panoramic photo. There were also tiny stone carvings and large cement sculptures.
We would like to thank and recognize the following contributing artists:
Soolim Co, P.Eng. (AB, BC, ON)
Soolim Co, P.Eng. works for Shaflik Engineering, specializing in the field of power distribution, water and water-waste plant process and motor control, PLC and SCADA system. Using the Canon system, Soolim is a landscape, nature and wildlife photography hobbyist. Soolim and his wife, Lydia, live in Coquitlam, BC.
Title of piece:
Court of Patriarch at Virgin River
Vania Dimitrova
Vania Dimitrova was born and raised in Bulgaria. At four years old she began to study art in a private studio. By an age twelve Vania was embarking on studies at the Art School in her native town, Plovdiv, subsequently continuing her education at the Academy of Fine Arts in Sofia. During the six years at the academy she studied painting, art history, plastic anatomy of the human body , drawing , illustration and arrangement of books. Since moving away from her native country she has participated in a solo exhibitions in various world locations such as Malta and New York. Mrs. Dimitrova is an art teacher at elementary school.
Title of pieces:
Castle Mount, Sunwapta falls, Fairmount Hot Springs and Crescent Falls
James Dong, P.Eng.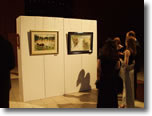 James Dong, P.Eng. is a senior structural engineer with VECO Canada Ltd. James received his B.Sc. in architecture & structural engineering and M.Sc. in structural engineering from Southwestern Jiaotong University (Chengdu, P.R. China) In 1994, James received his M.Sc. in structural engineering from the University of Manitoba. James is a member of the Calgary Sketch Club. His main focus is on watercolor paintings.
Title of pieces:
Downtown, Stampede, Dwellers of Yellowstone and Blue Falls
Sharon Lee Ellingsen, E.I.T.

Sharon Lee Ellingsen, E.I.T. graduated with her B.Sc. in electrical engineering and is an radio frequency engineer in wireless data development. Her professional journey was preceded by experience as a PCB designer and draftsperson. Previous to her technical background, she worked in the soft skills arena with a BA in social psychology.
Title of Piece:
Head Study
Bruce Gerus, P.Eng.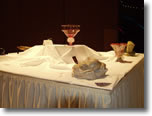 Bruce Gerus, P.Eng., Director of Technology and Asset Integrity for Shell Canada Limited, is a sculptor and a glass blower. Bruce started blowing glass at the Alberta College of Art and Design in 1992. Glass is a fascinating medium as it allows for endless three-dimensional possibilities with great visual satisfaction. While glass blowing is a difficult skill to develop, Bruce meets the challenge. Glassblowing compliments Bruce's other major artistic endeavor, which is carving stone. Bruce started sculpting stone on a regular basis in 1992. He is a self-taught sculptor but gained some technical guidance during his membership in the Stone Sculptors' Guild of North America.Bruce uses a variety of stones to provide him with new challenges and visual rewards.
Title of Pieces:
Two glass pieces (no titles): A Roman style, large wine red bowl and a red, white and silver, flower style bowl.

Two sculptures: Spring and The Voluptous One
Neil Kucharski, P.Eng.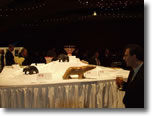 Neil Kucharski, P.Eng. has been practicing engineering for several years and is currently the manager of municipal and environmental engineering at the Focus Corporation. Neil is a self-taught sculpture and has been developing his art for the last year and a half, after seeing work created by a relative of his. While carving stone is his main artistic outlet, he has dabbled in free form abstract sketches.
Title of Pieces:
Traveler, Pause for Reflection, Watching and New Ice
Lloyd Linkiewich, R.P.T. (Eng.), R.E.T.
Lloyd received his C.E.T. in 1988, his R.E.T. in 1990 and his R.P.T. (Eng.) in 2001. In 1996, Lloyd and his wife (Tracy, a graphic artist) opened Lasting Images Photography Inc., a residentially based business. Lloyd and Tracy belong to the Alberta Professional Photographers Association as well as the Professional Photographers of Canada. In 2000, Lloyd became the first professional Photographer in Edmonton to receive an accreditation in Photojournalistic Wedding photography. In the fall of 2001, Lloyd won the Canadian award for "Best in Class" in the Group Wedding Portrait category.
Title of Pieces:
Classy but Casual, Just for you Mom & Dad, Fading to Blue, Sweat Pea & Butter Cup and A Kiss is but a Kiss (Album)

Heather McKay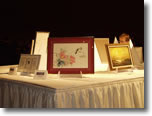 Heather McKay has lived in Alberta all of her life, so it seemed fitting to begin her work depicting Alberta landscapes. Following a northern trip, Heather became interested in the style, form and purpose of inukshuks. During her teaching career, she also developed an appreciation and admiration for Chinese art. Added to her portfolio are pen and ink drawings of St. Albert landmarks.
Title of Pieces:
Day is Done, Inukshuk, Oriental Lovebird and Blue Belles
Michele Mitchell, B.F.A.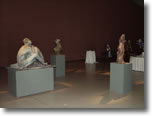 Michele Mitchell, B.F.A, graduated from the U of A's Bachelor of Fine Arts program in 1999. Within a few months of graduating, Michele was awarded a commission by the December 6th Committee to commemorate the 10th anniversary of the Montreal Massacre of female engineering students at the Ecole Polytechnique. This life-size three-figure monument was to be completed in less than five months. Michele was fortunate to draw on the support of Andrew Mitchell, P.Eng., her civil engineer husband, as well as Lafarge Cement and NAIT Civil Technology Department to create what was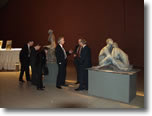 probably the first large sculpture made with ciment fondu. She has continued to sculpt larger pieces that she and her husband cast in a high strength cement mortar using a hollow shell technique, which they've modified for their type of work.
Title of Pieces:
Clea, Aphrodite, Grace and Penelope & Ulysses
Dan Neil, P.Eng.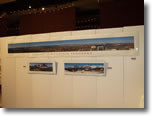 Dan Neil, P.Eng enjoyed venturing into the backcountry to hike, scramble and climb, on his mountain trips. The vistas from the high vantage points attained, inspired him to compile a photographic record of these locations. Progressively acquiring more sophisticated equipment for this purpose, Dan eventually procured a medium format 'slitscan' camera capable of producing a seamless image of 360 degrees. Dan now specializes in panoramic photography, which allows him to create a unique collection of our landscapes and natural heritage.
Title of Pieces:
Calgary's Mountain Panorama, Lodge of the Ten Peaks - Lake Louise - Banff and Mount Assiniboine Provincial Park - British Columbia
Larrie Roosdahl, P.Eng
Larrie Roosdahl, P.Eng works as a consultant to the oil and gas industry in Calgary. He has always taken a keen interest in art. He enjoys sketching and painting, landscape and wildlife scenes. While still in high school, Larrie joined the Golden Art Club where he developed his basic oil painting skills. During his membership in the Burnaby Artists Guild, he was introduced to the world of watercolours. Larrie has enjoyed extensive travel throughout western and northern Canada, and he has incorporated the beauty of the country and nature in his artwork.
Title of Pieces:
Moraine Lake, Westcoast Beauty and Keewatin Sentry
Lorraine Shulba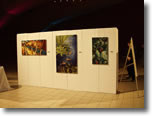 Lorraine Shulba has been painting for about 7 years. She started with watercolor, then moved on to acrylics and now works with oils full time. Lorraine has taken various art training but is mostly self taught. Her recent work explores sense of form and colour on the surface of the canvass. Working on larger surfaces has allowed her the freedom to express her artistic vision on a grander scale. Currently Lorraine is working on a local commission, inspired by the architecture and old-world charm of Italy. Graduating from Grant MacEwan College in 1997, she specialized in graphic design and illustration. Lorraine is inspired by nature at any angle; from a group of flowers on a patio, to an invigorating walk in a meadow.
Title of Pieces:
Summer harvest, Patio splendor, Lily pond, Autumn dream
Amanda Schutz
Amanda Schutz is employed at Matrikon, where she works as a graphic designer and illustrator. She graduated from the Grant MacEwan College Visual Communication Program with a major in Design & Illustration. Amanda's favorite mediums are acrylics, oil pastels and pencil crayons. Two of today's pieces use oil pastel and pencil crayon and one is done with mixed media. Agile Bobsled was created for Matrikon's advertisement in the APEGGA National Engineering Week Supplment for the Edmonton Journal and Calgary Herald.

Title of Pieces:
Agile Bobsled, Censorship on the Airwaves, and Self Promotion
Randy Talbot, P.Eng.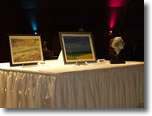 Randy Talbot, P.Eng. attended the University of Alberta, graduating in 1982 with a B.Sc. (EE), specializing in telecommunications. He has worked for AGT, NAIT and is currently employed as the telecommunications manager for the Edmonton Police Service. His interest in creating art dates back to his days in junior high school. Though his preferred media is painting (mainly in acrylics), he also enjoy creating sculpture (clay, stone, concrete and ice) and photography. His most common subject matter in painting is the landscape.
Title of Pieces:
Restless Foothills, Fields East of Montaigut-le-Blanc, and Prairie Blues.
Ron Wild, P.Eng.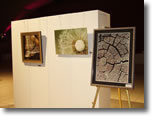 Ron Wild, P.Eng. has always had a unique perspective on information and learning. Now, in addition to photographing the natural world, Ron creates visual images of abstract concepts like mind maps. These information landscapes are used to help explore and navigate the Internet. Combining traditional engineering approaches with leading-edge information technologies, Ron applies the art and science necessary to develop new graphical "eLearning" interfaces. Abstract photography continues to be one of the primary art forms that fuels his creativity and spirit of innovation.
Titles of Pieces:
Would Not, Wild Wide Web, Dandy Golf Ball