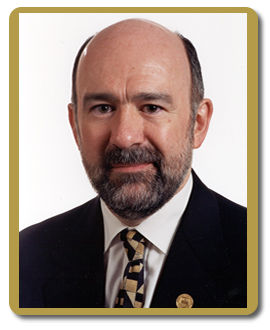 "Awarded to a member of APEGGA who has attained the highest distinction relating to the science of engineering, geology or geophysics, as an executive or director of an outstanding project or continuing enterprise in which the member has conducted, guided or directed or was responsible for the practice of the specific profession. The nominee may have also attained the highest distinction because of invention, research or original work, or an outstanding or exemplary career in teaching the professions."
David Lynch, P.Eng., PhD
As Dean of Engineering at the University of Alberta since 1995, Dr. Lynch has developed, wrote and coordinated proposals, and conducted fundraising that has resulted in the largest expansion of the engineering programs, faculty members and engineering facilities in the Faculty of Engineering's history. He developed strategies to improve the quality of students entering the first year engineering program through proactive recruitment, introduced a number of entrance scholarships, revised and streamlined the first year engineering curriculum, actively raised funds for capital expansion and increased the faculty's profile through efforts such as the NSERC industrial chairs and other awards. Under
Dr. Lynch's guidance, the Faculty of Engineering has experienced phenomenal growth with the construction of a major new engineering complex involving both educational and research facilities.
Dr. Lynch also works tirelessly on a number of boards and committees that are focused on enhancing or supporting the engineering profession. The misuse of the term "engineering" by faculties across Canada has become a major concern. As a member of the CCPE/AUCC Software Engineering Panel, Dr. Lynch played an integral role in drafting the panel's consensus report that saw a resolution of the software engineering issue. The proposed resolution has now been endorsed in principle by a majority of the provincial engineering associations and by the National Council of Deans of Engineering and Applied Science.
As a member of the Canadian Engineering Accreditation Board (CEAB),
Dr. Lynch spends approximately 30 days per year organizing and running accreditation visits and making accreditation decisions for engineering programs in Canada. These activities stretch from detailed organizational matters to high-level leadership in the development of standards for engineering education in Canada.
In addition to the duties associated with his position as Dean, Dr. Lynch is vice-chair of both the Alberta Energy Research Institute (formerly the Alberta Oil Sands Technology and Research Authority). His leadership has been instrumental in developing and setting policy for government support of energy related research in Alberta. Dr. Lynch is also a member of the Alberta Science and Research Authority (ASRA) Board of Management and has been actively involved in the development and approval of major provincial strategies and funding for science and technology research in Alberta.
An engineer and scientist, his research has been in the areas of chemical reaction engineering and catalysis. In collaboration with colleagues, Dr. Lynch has studied the use of supported metal catalysts to eliminate the oxides of nitrogen and carbon monoxide formed during combustion processes such as those that occur in automobile engines. These studies identified the causes for the unusual steady-state and dynamic phenomena displayed by these reaction systems. Dr. Lynch received the Albright and Wilson Americas award from the Canadian Society for Chemical Engineering for his distinguished contribution to chemical engineering before his fortieth birthday. His work continues with groundbreaking work on polymerization and catalytic polymerization of olefins with special application to the production and characterization of polyethylene.
As an educator, Dr. Lynch has developed innovative teaching methods in a range of courses at all levels, and has received recognition in the form Faculty teaching awards, including the AC Rutherford Award for excellence in undergraduate teaching from the University of Alberta.
Previous Recipients
2000 J. Lagadin, P.Eng.
1999 J.E.C. Carter, P.Eng.
1998 W. H. Dilger, P.Eng., PhD
1997 D. J. L. Kennedy, P.Eng., PhD
1996 M. M. Williams, P.Eng.
1995 L. T. Bruton, P.Eng., PhD
1994 G. J. Maier, P.Eng., FCAE
1993 F. D. Otto, P.Eng., PhD
1992 A. R. Pasini, P.Eng.
1991 A. G. Slekys, P.Eng., PhD
1990 W. Taciuk, P.Eng.
1989 C. W. Bowman, P.Eng., PhD
1988 A. B. Coady, P.Eng.
1987 A. W. Howard, P.Eng.
1986 J. G. MacGregor, P.Eng.
1985 G. M. Furnival, P.Geol., PhD
1984 N. R. Morgenstern, P.Eng.
1983 Award not presented
1982 R. O. Lindseth, P.Geoph.
1981 R. A. Hemstock, P.Eng.
1980 D. B. Robinson, P.Eng., PhD
1979 C. R. Stelck, P.Geol.
1978 W. A. B. Saunders, P.Eng.
1977 R. N. McManus, P.Eng.
1976 F. K. Spragins, P.Eng.
1975 G. Ford, P. Eng., PhD
1974 N. A. Lawrence, P.Eng.
1973 R. E. Follinsbee, P.Geol., PhD
1972 T. Blench, P.Eng.
1971 L. E. Gads, P.Eng.
1970 L. A. Thorssen, P.Eng.
1969 G. W. Govier, P.Eng.
1968 R. M. Hardy, P.Eng.
1967 J. C. Sproule, P.Geol.