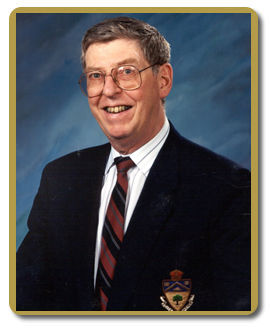 "This award is presented to members of APEGGA who have served their profession diligently for many years and made substantial contributions to the operation of the Association and the advancement of its professional status."
Robert Ross, P.Eng.
Robert Ross graduated from the University of Toronto with a B.A.Sc. in civil engineering in 1955.
After graduation Mr. Ross was employed initially as an assistant building engineer by the Township of Etobicoke, ON. and later as design engineer in the Plant Engineering Department of the Ford Motor Company of Canada.
In 1962 he joined The Warnock Hersey Co. as division manager of their operations in Newfoundland, subsequently being transferred to their head office in Montreal to establish a Transportation Division.
In 1966 he was hired by Damas and Smith Ltd., a Toronto-based transportation consulting firm. He was responsible for establishing and managing a Winnipeg branch of the firm, providing a full range of transportation related study and design services.
Mr. Ross relocated to Vancouver in 1971 to join Associated Engineering Services Ltd. (AESL) as a project manager. Subsequently, he took over responsibility for the AESL transportation group and later was appointed Vice President Administration. This appointment led to his move to head office in Edmonton where he later took on the responsibility of Vice President Engineering. He played a key role in orchestrating the adoption and successful application of computer based drafting, design, and mapping, becoming director, Associated Geographic Systems Ltd.
Mr. Ross joined the staff of APEGGA in January 1985 and was appointed Executive Director and Registrar in 1988, a position he held until his retirement in 1996. In 1997 the Association awarded him Life Membership.
During his term as Executive Director, Mr. Ross managed the growth of the Association and was deeply involved in the implementation of new planning strategies and governance policies. Under his leadership, the Association's role as a leader in the promotion of engineering and the geosciences, and its work on environmental practice standards received national recognition.
Throughout his term, he worked closely with government and the Alberta Society of Engineering Technologists to achieve appropriate levels of recognition for technologists as members of the engineering team in terms of right to title and limited right to independent practice.
As Executive Director, Mr. Ross saw steady membership growth and unprecedented change in the way the professions self regulate. He continued to efficiently manage the Association, maintaining staff levels while effectively administering a growing budget and finding innovative ways to continue to regulate APEGGA's three professions in the interest of the public good.
Since retirement he has continued his involvement with the professions, having served on APEGGA's Nominating Committee and on the Discipline Committee.
This Award is Named For…
Dr. Lionel Clare Charlesworth, a past president of APEGGA (1924-25). He was appointed Deputy Minister of Alberta Public Works in 1915 and also served as Deputy Minister of Railways and Telephones until 1921. Until his retirement in 1945, he devoted his life to the highly important work of irrigation in southern Alberta, and was instrumental in establishing the Eastern Irrigation District in 1935.
Previous Recipients
2000 J.A. Howard, P.Eng.
1999 D.T. Irving, P.Eng.
1998 D.V. Currie, P.Geol.
1997 D. Williams, P.Geol., PhD
1996 N.A. Cleland, P.Eng.
1995 W.L. Fraser, P.Eng.
1994 J.M. Browning, P.Geol.
1993 W.D. Usher, ALS, BCLS, CLS, P.Eng.
1992 D.W. Devenny, P.Geol., P.Eng., PhD
1991 D.A. Carswell, P.Eng.
1990 E.A. Bernard, P.Eng., F.D. Otto, P.Eng., PhD
1989 G.J. DeSorcy, P.Eng.
1988 R.H. Savage, P.Eng., C.H. Weir, P.Eng.
1987 M.J. Ozubko, P.Eng., R. Shortreed, P.Eng.
1986 T.H. Barton, P.Eng., PhD, H.L. Morrison, P.Eng.
1985 H.A.R. de Paiva, P.Eng., PhD
1984 L.R. Newby, P.Eng.
1983 G. Adam, P.Eng., R.O. Fisher, P.Eng.
1982 D.G. Bellow, P.Eng., PhD, J.L.A. Carey, P.Eng., G. Ford, P.Eng., PhD
1981 V.D. Thierman, P.Eng., E.J. Sanden, P.Eng., D.W. Purdy, P.Eng., A.J.L. Fisher, P.Eng.
1980 E.M. Berlie, P.Eng., R.D. Grantham, P.Eng., K. Puffer, P.Eng., H.S. Ragan, P.Eng.
1979 F.W. Beairsto, P.Eng., N.J. Christie, P.Geoph., R.F. Comstock, P.Eng., I.G. Finlay, P.Eng.
1978 E.K. Cumming, P.Eng.
1977 J. Longworth, P.Eng., S.H. Matheson, P.Eng., D.R. Stanley, P.Eng.
1976 C.S. Clendenning, P.Eng., T.D. Stanley, P.Eng., C.A. Stollery, P.Eng.
1975 A. Baxter, P.Eng., J.G. Dale, P.Eng., J.F. McDougall, P.Eng., J. McMillan, P.Eng
1974 P.L. Debney, P.Eng.