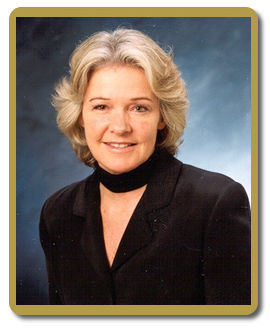 "The Council may confer Honorary Life Membership in APEGGA upon any professional member who has rendered signal service to the Association.

S.E. (Sue) Evison, P.Eng.
Sue Evison was born and raised in New Zealand, and now makes her home in Calgary. She graduated from the University of Otago in 1975 with a B.Sc. in mathematics and from the University of Canterbury in 1978 with a B.E. (Hons.) in civil engineering. After moving to Canada, Ms. Evison completed her MSc. in geotechnical engineering at the University of Alberta in 1988.Currently, Ms. Evison is a senior geotechnical engineer and Manager of Marketing for Klohn Crippen Consultants Ltd.
Ms. Evison has been a member of APEGGA since 1982 and became actively involved in the affairs of the Association in 1987. She has been a strong supporter of APEGGA's proactive position on issues and believes that the Association should maintain forward thinking and flexible relationships with its members, government, the general public, technical and trade organizations and other professional associations.
Ms. Evison has assumed numerous leadership roles with APEGGA serving on Council (1996-1999), as first vice president (1999-2000) and as president (2000-2001). Prior to assuming an executive role on APEGGA's Council, Ms. Evison chaired and served three years on the Publications and Editorial Advisory Committee and the Member Relations Committee. She was a member of the Investigative Committee that evaluates complaints of unprofessional conduct or unskilled practice. Ms. Evison also served on the Convention Planning Committee for two years and was appointed to the Nominating Committee in 1994 and 1998.
Ms. Evison has served a three-year term on the board of directors of the Canadian Geotechnical Society and has held various offices with the local Calgary geotechnical group. She has been active in the Consulting Engineers of Alberta, and a member of the Tunnelling Association of Canada, the North American Society of Trenchless Technology and the Canadian Dam Association.
Her enjoyment of skiing led to her involvement with the Canadian Ski Patrol as an assistant patrol leader and mountain tour ski guide with the Ski Friends at the Lake Louise ski resort. An avid golfer, Ms. Evison was a former national junior women's titleholder and member of the New Zealand junior team.
Previous Recipients
2000 D.J. Danyluk, P.Eng.*
1999 D.R. Motyka, P.Eng.*
1998 D.A. Lindberg, P.Eng.*
1997 F.D. Otto, P.Eng., PhD*
1996 J.R. Wood, P.Eng.*
1995 D.W. Devenny, P.Geol., P.Eng., PhD*
1994 J.A. Howard, P.Eng.*
1993 W.B. Lester, P.Eng.*
1992 N.A. Cleland, P.Eng.*
1991 N. Orr, P.Eng.*
1990 D.T. Irving, P.Eng.*
1989 T.W. Chambers, P.Eng.*; C.R. James, P.Eng., PhD
1988 J.S. Denis, P.Eng.*
1987 W. Blair, P.Geoph.*; F.D. Priestly, P.Eng.
1986 D.G. Bellow, P.Eng., PhD*; D.V. Currie, P.Geol.
1985 R.H. Savage, P.Eng.*
1984 J.M. Browning, P.Geol.*
1983 W.L. Fraser, P.Eng.*
1982 G.R. Gray, P.Eng.*; J.F. Hunt, P.Eng.
1981 J.W. Gregg, P.Eng.; C.D. Howarth, P.Eng.; J.R. McDougall, P.Eng.*;
1980 D.L. Flock, P.Eng., PhD; R.O. Lindseth, P.Geoph.*
1979 G.J. Maier, P.Eng.*; L.R. Morris, P.Eng.
1978 I.G. Finlay, P.Eng.; E.J. Sanden, P.Eng.*
1977 E.M. Berlie, P.Eng.*; R.J.B. McNally, P.Eng.
1976 E.M. Cheriton, P.Eng.; R.K. Moyse, P.Eng.; F.K. Spragins, P.Eng.*
1975 R.N. Dalby, P.Eng.*; S.J. Hampton, P.Eng.; J.S. Mitchell, P.Eng.

*Denotes past president