THE APEGGA CENTENNIAL LEADERSHIP AWARD
James Edward Clarke Carter, P.Eng.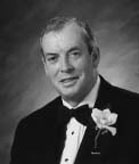 James Edward Clarke Carter, P.Eng., has been presented with the Association's highest award, the APEGGA Centennial Leadership Award. Mr. Carter graduated from the Technical University of Nova Scotia (TUNS) in 1973, and from the advanced management program of the Harvard Graduate School of Business Administration. He received an honorary doctorate from TUNS in 1996.
Mr. Carter joined Syncrude in 1979 as manager of overburden operations. He became general manager of maintenance and operations services in 1986. One year later, he was promoted to vice-president of administration. In 1989, Mr. Carter was appointed vice-president of operations, and president and chief operating officer in October 1997.
At Syncrude, Carter has played a prominent role in a variety of initiatives aimed at enhancing safety, reliability, production, unit costs and product quality. More recently, Mr. Carter has driven the development of a key technology – the hydrotransport of oil sand, commercially developed for Syncrude's North Mines.
Mr. Carter is largely responsible for Syncrude's excellent record in loss management, which has shown a continual reduction of risk to the environment, people, plant and production. Recently, he led the incorporation of environment, health and safety performance into Syncrude's management system.
The Centennial Award recipient supports continued learning initiatives within and outside the company. Syncrude is Canada's largest and most successful industrial employer of aboriginal people, and Mr. Carter works to encourage aboriginal development within other Canadian companies.
By gaining industry financial and technical support, he led the revival of the University of Alberta's Mining Engineering Department when it was slated for closure. He chairs an Industry Advisory Board to the Mining Engineering Program at the U of A.
Mr. Carter is active in the Mining Association of Canada and the Canadian Institute of Mining, Metallurgy and Petroleum (CIM). His contributions to CIM have been recognized with the Past President's and Fellowship Award.
Mr. Carter also completed a six-year term on the board of governors at Keyano College in Fort McMurray. His other professional and community affiliations include: director and member of the executive committee, Mining Association of Canada; director and member of the executive committee of the Alberta Chamber of Resources; board member, Northern Lights Regional Hospital Foundation; and board member, Vista-Ridge Ski Hill Association.

---
APEGGA COMMUNITY SERVICE AWARD
Allan Douglas Rogan, P.Eng.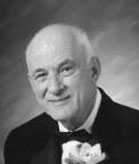 Doug Rogan graduated from the University of Saskatchewan with a B.Sc. and M.Sc. in geological engineering. Early in his career, he was instrumental in developing new completion techniques for the extraction of gas from low permeability reservoirs. The recognition of his contribution and expertise led to his promotion to vice-president, production and director of Alberta Eastern Gas Ltd. He later established Dynamar Energy Ltd. and now is president of his privately-owned company, Taku Gas Ltd.
Mr. Rogan has served a large number of community organizations. Since early boyhood, he has been active in Scouts Canada and was awarded the Silver Wolf by the Governor General of Canada. He currently is a director for the Calgary Scout Foundation. Mr. Rogan was an initiator in the development of the Calgary Indian Friendship Centre and the Calgary Academy, a private school for learning disabled children. He served in executive capacities at the Heritage Park Society, Woods Home, YMCA, Sir Winston Churchill High School and Mount Royal College. In recognition of his many contributions, Mr. Rogan received a service award from the Premier's Council in Support of Alberta Families.
---
APEGGA L.C. CHARLESWORTH PROFESSIONAL SERVICE AWARD
David Thane Irving, P.Eng.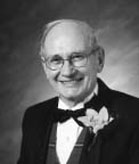 Born in Cape Bear, Prince Edward Island, Dave Irving obtained a B.Sc. in electrical engineering from the University of New Brunswick in 1960. He earned a management development certificate from the University of Calgary, and participated in the utility executive program at the University of Idaho.
Mr. Irving was employed with Shawinigan Water and Power in Quebec from 1960 to 1965. He then joined TransAlta Utilities in Calgary (then Calgary Power Ltd.) as an electrical power distribution engineer. He later was appointed manager of operation in Lethbridge. He retired as manager of distribution field services with TransAlta in 1994. Mr. Irving resides in Calgary.
From 1982-83, he chaired APEGGA's Lethbridge Branch. He continued his activities as a member of APEGGA Council, a member and chair of the Discipline Committee, 2nd Vice-President, 1st Vice President and President (1989-90). Following his presidency, he served on Council as Past President, member of the Public and Member Relations Committee, a member and chair of the Nominating Committee, and a member and chair of the Appeal Board. He was awarded an APEGGA Honorary Life Membership in 1990.
While he was APEGGA President, key committee chairs and senior APEGGA staff carried out the Association's first strategy planning sessions. The committee organization was reviewed and altered to focus on APEGGA's involvement in public education, and public and member relations. In addition, the Association's current mission statement was created.
He also has been active in the Lethbridge Chamber of Commerce, Rotary Club, and volunteer agencies, such as the United Way, and his church board.
---
APEGGA EARLY ACCOMPLISHMENT AWARD
Mir Mazher Ali, P.Eng.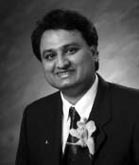 Mir Ali was born in India and received his bachelor of engineering degree with high honours from Gulbarga University, India, in 1991, and his master of engineering from Carleton University in 1995. He currently is a structural/bridge engineer and project manager with UMA Engineering Ltd. in Edmonton.
Mr. Ali has played prominent roles in numerous projects from functional design to construction completion of highway, railway and industrial bridges, transportation structures and heavy industrial structures. His work includes rehabilitation and replacement designs of a variety of railway bridges, including the complex Fraser River Bridge railway interlocks for Canadian National Railways and the multi-span Saulteaux River Crossing. He has participated in over 100 highway bridge projects. His proficiency in finite element analysis and design was utilized for several bridges and industrial structures, including the Canmore Trans-Canada Interchange Bridge, the Pembina River Bridge, the design of Grande Cache Water Treatment Plant and deep foundations designs for the Weyerhaeuser Canada OSB plant in Alberta. Mr. Ali possesses proven skills in administering and managing multiple, concurrently progressing, construction projects.
He is very keen on implementation of total quality management in the consulting engineering environment and encourages the application of health and safety programs at the constructions sites. He has developed several structural analysis and design softwares and he has written several publications on non-linear analysis and design of structures.
Mr. Ali is very active within APEGGA with the professional development program. He mentors one structural engineering graduate student every year at the University of Alberta.
---
APEGGA FRANK SPRAGINS TECHNICAL AWARD
Leo A. Behie, P.Eng., PhD
The diverse and innovative research of Leo Behie is unusual in that it applies the basic principles of chemical reaction engineering to the animal cell biotechnology field, the energy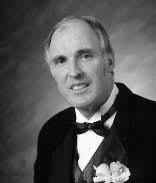 sector and the environmental field.
This includes the large-scale production of:
mammalian neural-brain stem cells, which may aid in the future development of treatments for brain and spinal cord disorders;

therapeutic proteins from genetically engineered animal cells, which are used in the treatment of a variety of diseases.
Both processes depend on the use of computer controlled bioreactors.
Dr. Behie has been working on the development of a new pyrolysis process for the upgrading of Canadian heavy oils. His research has led to a faster heat degradation process that produces higher yields and is of lower cost for producers. In the environmental field, Dr. Behie has utilized the simulation of Claus plants to develop new operational protocols that significantly reduce sulphur emissions at sour gas plants. In 1998, his research and development efforts won him the Outstanding Leadership in Alberta Technology (ASTech) Award.
His research projects have received funding from a variety of private and government groups.
As a professor of chemical engineering at the University of Calgary, Dr. Behie has taught undergraduate courses and supervised graduate students and postdoctoral fellows. In addition, Dr. Behie maintains his own engineering company, Behie Engineering Ltd.
Dr. Behie has authored more than 100 refereed manuscripts and served as a reviewer for a number of engineering journals. He has been active within APEGGA, setting and marking examinations.
---
HONORARY LIFE MEMBERSHIP
Daniel Roman Motyka, P.Eng.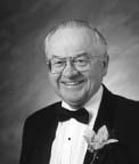 Dan Motyka was born and raised in Manitoba. He graduated from the University of Manitoba with a bachelor of science degree in mechanical engineering in 1959 and attended the advanced management program at Harvard University in 1978.
Mr. Motyka joined Gulf Canada Resources Limited upon graduation and retired at the end of 1991 as vice-president, production. He was responsible for the building the Gulf Beaufort Drilling System and helped create the Russian joint venture KomiArctic Oil. He was president and CEO of Canada Hibernia Holding Corp. from April 1993 to April 1995. In 1995, he became president of Questor Technology Inc., where he is actively involved in commercializing several environmentally friendly inventions.
A member of APEGGA since 1964, Mr. Motyka was elected to Council in 1994 and installed as President in 1998, after serving the previous year as 1st Vice President. He served as chair of the Roles and Responsibilties Task Force, which introduced the Association's new governance model; as a member of the executive search team to select the executive director in 1996; and as chair and member of the Discipline Committee.
He has been the chair of the producers section of the Canadian Gas Association (1979-81); Canadian representative on the International Gas Union (Group Committee A); and chair of the board of the Centre for Cold Ocean Resource Engineering. Mr. Motyka was the founding chair of the Associates Program in the Faculty of Engineering at the University of Calgary in 1990. He served on the Advisory Board, Project Management, at the University of Calgary (1987-93) and chaired its fundraising committee (1992-93). He has represented Canada's interests in the management audit of the University of Texas A&M Deep Ocean Drilling Project. He co-chaired the fundraising program for the Faculty of Engineering at the University of Calgary to top up a chair in petroleum and create a new chair in drilling.
His awards include the Canadian Institute of Mining and Metallurgy (CIM) J.C. Sproule Memorial Plaque for distinguished contributions to petroleum exploration in the Canadian Arctic, and the Petroleum Society Distinguished Service Award. He continues to serve on the board of governors of the Petroleum Society of the CIM.
---
HONORARY MEMBERSHIP
Reggald (Reg) E. Isley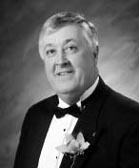 Reg Isley is the founder of Risley Equipment (parent company is Risley Manufacturing Ltd.), a company he started in 1984 to address the needs of the forest industry. His company has grown to more than 200 people, and produces more than 40 lines of innovative forestry equipment from its home base in Grande Prairie. Mr. Isley founded his company on innovative engineering aptitude and an ability to turn excellent product ideas into commercial products.
Born on a homestead southwest of Beaverlodge, Alberta, he aspired to study aeronautical design and engineering, but circumstances limited him to a Grade 10 education and a welding certificate from the Southern Alberta Institute of Technology.
Mr. Isley is a holder of numerous patents, and recipient of the 1989 Alberta Export Award and Business Award of the Year from the local Chamber of Commerce.
---
APEGGA PROJECT ACHIEVEMENT AWARD
Dow Chemical Fort Saskatchewan
Hydrocarbons Expansion Project
This project doubled the capacity of the existing ethylene extraction plant (LHC1) at Dow Chemical's Fort Saskatchewan site. The plant was originally designed to produce 545,000 tonnes per year. The expansion project entailed the construction of the largest ethane-based ethylene train in the world, producing 1.1 million tonnes per year of ethylene.
In 1995, Dow's hydrocarbons and energy business team posed the question: "How big could we make LHC1?" Chemical engineers confirmed that 1.1 million tonnes per year was possible and design commenced. Alberta engineers provided project management, technical supervision and process control. Construction began in late 1997, with much of the construction done while LHC1 was in full production. Various parts of the plant were taken down to perform tie-ins, beginning in June 1998. The plant was down for eight weeks in July and August 1998 to install new equipment, including unique modular furnaces to crack the ethane at 800 C to produce ethylene.
Start-up occurred on Sept. 7, 1998 and full production rates were achieved on Sept. 22, 1998. During the course of the project, success was achieved in three benchmark criteria of key deliverables: operability, cost, and schedule as measured by an independent benchmarking firm, Independent Project Analysis. Furthermore, the project's safety record was an impressive 0.25 lost times cases per 200,000 work-hours.
Hydrocarbons Project Manager Charlie Murdoch, P.Eng., with Dow expansion in background.