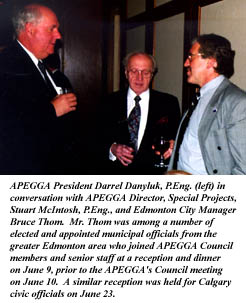 City of Edmonton Encourages Continuing Learning by Staff


The City of Edmonton's commitment to continuing learning is being demonstrated by a recently launched program which will see approximately 300 managers, including staff engineers, participate in 15 days of leadership training over the next three years.

City Manager Bruce Thom notes that the program, which has been arranged through the University of Alberta's Faculty of Extension, is being presented by the U of A's School of Business.

"It's fairly aggressive training not done by anyone else in the same way. I believe it's a first-of-its-kind arrangement for a municipality and a university," Mr. Thom told The PEGG. The ground-breaking nature of the program has led the federal government to support it to the tune of $100,000.

Kurt Sawatzky, P.Eng. manager of drainage services with Edmonton's Asset Management and Public Works Department, attended the first such session, held in mid-June. He believes the learning modules — covering areas such as what it is to be a leader, the value of leadership in an organization and what to expect of a leader and staff — fit nicely with the efforts already under way within his own branch to encourage continuing learning.

To further ensure employees within his branch who are APEGGA members meet the Association's Continuing Professional Development requirements, the drainage branch now requires those seeking reimbursement of fees to submit their CPD report with their request for reimbursement.

Mr. Sawatzky notes that the city expects consulting engineers working on city contracts to be properly registered and it is a natural extension to require the same from engineers employed by the city.

APEGGA Director of Professional Development Len Shrimpton, P.Eng., says: "The initiative by the City of Edmonton provides yet another example of how employers are taking seriously the need to support the continuing education and professional development of their employees."