Donald G. Laplante, P.Eng.
Was CCPE Executive Director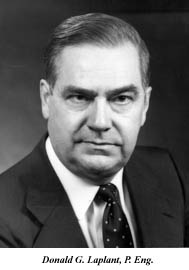 Donald (Don) G. Laplante, P.Eng., the executive director of the Canadian Council of Professional Engineers (CCPE) from 1984 - 1995, died June 1 in Ottawa of leukemia. He was 71.

Under his guidance, CCPE formulated a new definition of engineering, celebrated its 50th anniversary (1986), organized unique festivities to mark the Centennial of Engineering in Canada (1987), initiated National Engineering Week (NEW), and hosted the 1987 General Assembly of the World Federation of Engineering. He was also at the helm when the Council initiated discussions with the United States on the cross-border movement of professional engineers under the North American Free Trade Agreement, signed the Washington Accord (1989), created the Canadian Engineering Memorial Foundation, and prepared a report on the Future of Engineering Education in conjunction with the National Council of Deans of Engineering and Applied Science.

"Don's grace and diplomacy were the hallmark of his leadership style," said CCPE's Vice-President, International Affairs Wendy Ryan-Bacon, P.Eng. "Under Don's watch, CCPE became much more involved in public awareness activities, and in facilitating international mobility for Canadian engineers. His efforts helped Canadian engineers and engineering standards to gain world-wide recognition."

Internally, Mr. Laplante was influential in restructuring the Canadian Accreditation Board, which became the Canadian Engineering Accreditation Board in 1986. He also played a key role in the creation of the Canadian Engineering Qualifications Board in 1987 and the Canadian Engineering Public Awareness Board in 1993, and in transforming the Canadian Engineering Manpower Commission into the Canadian Engineering Human Resources Board in 1991. He was also CCPE's chief staff officer when the Council developed and implemented a new five-year strategic plan in 1993.

Following his retirement from CCPE in 1995, Mr. Laplante became vice-president of the World Federation of Engineering Organizations.

"Few men have contributed so much to their profession," said Dan Levert, P.Eng., LL.B., CCPE's President and CEO. "Don will be missed."

Mr. Laplante survivors include his wife, CÚcile and two sisters. Funeral services were held June 10 in Ottawa. In lieu of flowers, donations to the Ottawa Hospital, General Campus, 501 Smyth Rd, Ottawa, ON K1H 8L6 for leukemia research, or to the Montfort Hospital, 713 Montreal Rd., Ottawa, ON K1K 0T2 would be appreciated.