Ed Stelmach New Minister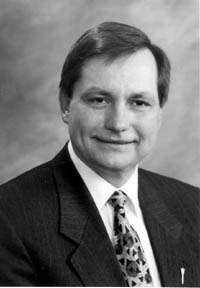 Responsible for EGGP ActHon. Ed Stelmach, who as a result of the Alberta cabinet shuffle in late May was appointed Minister of Infrastructure, becomes the minister responsible for the Engineering, Geological and Geophysical Professions (EGGP) Act.

Cabinet responsibility for the EGGP Act formerly was held by Hon. Stan Woloshyn, who served as Minister of Public Works Supply and Services (now Infrastructure). Mr. Woloshyn was appointed Minister of Community Development.

Mr. Stelmach was first elected to the Alberta Legislature as MLA for Vegreville-Viking on June 15, 1993. In March 1997, he was elected to a second term and appointed Minister of Agriculture, Food and Rural Development.

During his first term as an MLA, he served as deputy whip, and later as government caucus whip. He also was chairman of the Alberta Agricultural Research Institute and a member of the Standing Policy Committees on Community Services and Health Restructuring.

Mr. Stelmach has been an active member of municipal and regional organizations in his community for the past 15 years. He is a past reeve for the County of Lamont.

Mr. Stelmach attended the University of Alberta, then worked in the retail business for 11 years before returning to the Lamont/Andrew area where he was born and raised. He and his wife Marie reside with their daughter and three sons on the homestead south of Andrew originally settled by his grandfather in 1898.