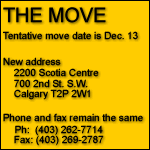 As a self-regulating organization empowered by the provincial Engineering, Geological and Geophysical Professions Act, APEGGA maintains a close relationship with the Alberta Government. It stands to reason, then, that the Association's head office is in the capital city, near the Alberta Legislature and many of the various government departments and organizations staff regularly deal with.

Yet it's been obvious for some time that APEGGA needs more and improved office space in Calgary. Serving and working with members is a huge part of APEGGA's role.

And in the eight-plus decades of the Association's existence, Calgary has entrenched itself as the province's corporate head-quarters city.

That means much of APEGGA's membership growth has centred in and around Calgary. Today, more members live and work there than anywhere else.

With the office lease at Life Plaza coming due in early 2003, APEGGA's Executive Committee and Council decided it was time to give the Association the Calgary profile it deserves - and in a more functional and prestigious space. An impending move to the Scotia Centre, APEGGA leaders and managers say, will accomplish that and more.

Says Ginny Nicholson, manager of Corporate and Member Services: "We've designed and built the space based on customer service. Customer service is good now, the staff in Calgary do a wonderful job. But there are space limitations. We needed more and better space for serving our members and the public."

After the move to the 22nd floor of the Scotia Centre, which will likely take place Dec. 13, members will notice a better reception area and a new feature - private areas for working individually with members. Upgraded phones will mean better voice mail, fewer busy signals and less time on hold.

More staff will now work from the Calgary office. Council has approved a new position, director of geosciences, to reflect and better serve the concentration of professional geologists and geophysicists in Calgary. Recently, APEGGA added a full-time Outreach coordinator to the Calgary staff complement, to better develop and promote science and math, in grade schools and the community.

Edmonton directors will have more space to operate from when they visit. APEGGA's new Calgary home will have an office for use by the APEGGA executive director and other visiting directors.

The roles of governance - and all committees - receive a major boost. No more will Council and committees gather for their meetings in Calgary hotels. A new, 4,150-sq.-ft. conference centre, equipped for video conferencing, will save operating costs and generate revenue from other associations that might rent it.

APEGGA designed the space with flexibility in mind. From the conference centre itself, users will be able to break into a 25-person meeting room. This room can be blocked off to become separate and independent of the conference centre, while being served fully by the office area. Also in the works is a boardroom to seat up to 12, similar to the one in Edmonton.

"We've tried to learn from the Edmonton conference centre," says Ms. Nicholson. Designs and plans incorporate better acoustics, better microphones (for hands-off and hands-on use), even better blinds. Microphone wiring will be more flexible and more concealed.
Net annual cost will be about $250,000, including lease and operating costs, compared with about $102,000 a year for less than a third of the space at the current location.

The selection of Scotia Centre concludes an exhaustive search, says Ms. Nicholson. "Our mandate was to pick not the very top end of the market, but something of good quality and well-located - downtown, near major hotels, and near C-Train connections. I feel we've accomplished that."