BY TOM KEYSER
Freelance Columnist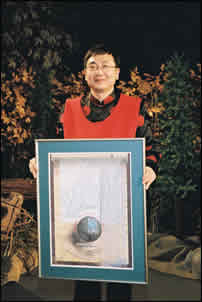 Dr. Dejaing Long, P.Eng., accepts the 2003 CEA Award of Excellence on behalf of the Golder team, which also includes Dr. Mike Bender, P.Eng., Dr. Shouhong Wu, P.Eng., Dr. Jason Yang, P.Eng., and Les Sawatsky, P.Eng.
He wasn't granted much leeway when he started down his career path. The Chinese educational system, after all, made all the important decisions for Dr. Dejiang Long, P.Eng., a Calgary water resources engineer.

" In those days in China, young people had limited choices when we went to university. We were streamed into a particular technical discipline," says Dr. Long, who studied hydraulic engineering at Tsinghua University in Beijing before completing his PhD at the University of Alberta.

But regrets? He wouldn't change a thing.

Dr. Long, a principal in Golder Associates Ltd., recently travelled to Winnipeg to accept an award of excellence from the Association of Consulting Engineers of Canada – for a project in China, the country of his birth.

Along with his Calgary-based team, Dr. Long was recognized for developing an innovative tool to manage the immeasurably complicated drainage and water management system for China's Sihu Basin. Earlier in 2003 and for the same work, project director Long and the Golder group earned similar peer recognition from the Consulting Engineers of Alberta.
A Personal Journey
Dr. Long doesn't mind confiding that the chance to return to his roots and lend a helping hand to the Chinese people was a dream come true. "That's one thing I do feel, on a personal level. Very satisfying," he says.

But Dr. Long, a charming, soft-spoken and modest man, is careful to spread around the credit for this significant triumph of 21st century engineering.
World Bank hired the Golder team, which was reinforced by flood management expert Dr. Slobodan Simonovic, P.Eng., now of the University of Western Ontario but at the time employed by the University of Manitoba. The bank financed a four-phase job as a part of the Yangtze Basin Water Resources Project by means of a loan of $550 million US. In turn, the Canadians allied themselves with a corporate team of Japanese experts, as well as engineers from two Chinese research institutes.

Golder became the prime subcontractor for the critical fourth and final phase of the six-year project, helping develop a masterly flood-management tool known as Sihu Decision Support System software.

This DSS software package, praised by the World Bank as ground-breaking, enables Chinese administrators to accurately forecast periods of high water while improving existing methods of draining flood waters from the sprawling basin.
Major Losses Averted
It's working like gangbusters, by the way. Since final software testing work wrapped up in October 2000, the Chinese administrators estimate that use of the software has averted more than $20 million US in flood damage.

That's a big boost to Sihu, a primarily rural and agricultural district north of the Yangtze. Measuring 11,500 square kilometres in area, it is home to almost five million people.

" During the summer flood season, the river rises as much as five to 10 metres higher than ground elevation within the basin," Dr. Long explains. "Extremely high dikes keep the river at bay. But since the basin has no natural water outlets, the Chinese rely on an extensive drainage system."

A series of gargantuan electric pump stations acts as the system's main bulwark. The stations are able to discharge 2,700 cubic metres a second – about 100 times more water than the biggest pump station in Alberta.

Meanwhile, operators try to minimize costly damage by means of an intricate network of sluices and drainage canals, thousands of kilometres in length. Excess water within the basin (which annually receives 1.2 metres of rainfall) is diverted to two lakes, which serve as holding pools.

Logistically, the management of this labyrinthine system is a job for Superman – or Golder's DDS software.

" The Chinese didn't have access to sophisticated management tools. That's why we came to help them," says Dr. Long.
Local Attitudes Respected
His team's knowledge of Chinese attitudes and traditional business methods came in particularly handy. Suspecting that system administrators would be unlikely to accept a solution imposed unilaterally by outsiders, Dr. Long and his team persuaded local officials to buy in from the start.

" We integrated the Chinese professionals into the whole process," he says. "They had a very important say in project objectives."

In fact, most of the award-winning software package was actually developed by the Chinese themselves, with the Canadians providing key methodological, technological and supervisory support.

Sure, there were glitches. Dr. Long admits it was often frustrating trying to navigate the enormously complex and sensitive Chinese bureaucracy.
Not that it was bad enough to keep him from wanting to return.

As you read this, Dr. Long and Golder Associates are preparing a proposal to pursue similar technological solutions on behalf of China's Yellow River Conservancy Commission.