By Jeanne Keaschuk


APEGGA Student Outreach Coordinator
---
"You made engineering sound very neat!"
"It was fun being taught by you."
"My favourite thing was doing the experiment because we got to touch stuff."
"I liked to see what kind of bridge was the strongest. I never knew there were so many building materials."
"You're better than Bill Nye the science guy! You're cool!"
---
V

olunteers received rave reviews from students for their outstanding efforts in APEGGA's Student Outreach program. Here's what teachers said:

"I truly appreciate your taking the time to share your expertise. With your presentation I know that learning about 'Building and Testing' became more meaningful and relevant for my students."

"I learned a great deal as well as the students. I taught the material in a different way and his presentation gave it a whole other perspective. This was very valuable! He was very down-to-earth with the students and they are still talking about him. Some parents even commented on what their children told them about his visit. I want him back next year!"

"The students were thrilled with his visit and were excited about the mini egg kits. They loved testing the properties of the rocks and thought that the 'jewels' he brought were incredible. They also thoroughly enjoyed his stories about fossils."

Here's what APEGGA says: THANK YOU, STUDENT OUTREACH VOLUNTEERS! We recognize and appreciate the valuable contribution you are making to heighten awareness of the professions, and to promote and encourage interest in science and math among Alberta youth.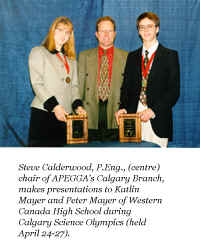 Star-Studded Cast There are many to thank for the success of this year's program. More than 300 volunteers were responsible for a lot of activity around the province and they did it in a fun and exciting way. They visited more than 400 classrooms to demonstrate science and/or talk about careers. They participated in career fairs, science olympics and fairs, shadows and job interviews, APEGGA award presentations, and science events such as National Science and Technology Week and National Engineering Week. They also talked to teachers at teacher conventions and professional development days. These volunteers reached more than 50,000 students and thousands of teachers. Acknowledgements Special thanks to: Nick Malychuk, P.Eng., and Bob Rose, P.Eng., whose creativity and talent spawned some new kits for classroom presentations. Kristina Kumar, University of Alberta Student Outreach rep, whose encouragement and efforts resulted in more active student participation. Branch Student Outreach reps who helped to increase member involvement at the branch level. Casting Call for 1999/2000 Many volunteers are continuing their service to the program but many more new volunteers are needed. There were more than 100 requests from teachers that could not be filled last year and teachers are already booking requests for 1999/2000. There are many ways in which members around the province can contribute to this important and rewarding program. The amount of time volunteered is left up to each member. Your support is welcome. For more information, please contact APEGGA Student Outreach: Calgary
Phone: 262-7714
E-mail: thornepettipas@apegga.org

Edmonton
Phone: 426-3990
E-mail: jkeaschuk@apegga.org
Toll Free: 1-800-661-7020