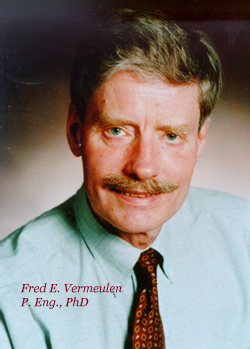 Fred E. Vermeulen, P.Eng., to Receive CCPE Award For Contributions to Engineering Education

Fred E. Vermeulen, P.Eng., PhD, of the University of Alberta's Department of Electrical and Computer Engineering is to receive the 1999 Canadian Engineers Award for Distinction in Engineering Education at the Canadian Engineers Awards Gala, scheduled for Yellowknife, N.W.T. on June 19.

The award recognizes Dr. Vermeulen for his innovative and effective teaching techniques and represents the second successive year that a member of APEGGA and U of A Engineering Faculty has been honoured with a prestigious national award from the Canadian Council of Professional Engineers (CCPE). Last year, Suzanne Kresta, P.Eng., PhD, of the U of A Department of Chemical Engineering, received the CCPE's Young Engineer Achievement Award.

A statement announcing the award CCPE notes: "Dr. Fred Vermeulen's decision to combine engineering and education as his career has made a world of difference in the lives of hundreds of engineering students."

Dr. Vermeulen is a full professor in the Department of Electrical and Computer Engineering at the U of A and has authored approximately 70 publications in peer-reviewed journals and made numerous conference presentations. He earned his B.Sc. in electrical engineering from the U of A in 1960, his M.A.Sc. in electrical engineering from the University of British Columbia in 1962, and his PhD in electrical engineering from the U of A in 1966.

Dr. Vermeulen's principal teaching interest is electromagnetics, an area in which he has developed and taught second-year, third-year, fourth-year and graduate courses.

The CCPE statement further notes:

"He delights in using unorthodox methods to hold student interest. In the late 1980s, he began the development of computer-assisted demonstrations, and, during the past year, Dr. Vermeulen and his colleague, Robert Fedosejevs, P.Eng., PhD, were the recipients of a significant grant to develop interactive teaching modules, programmed in Java.

He is the recipient of numerous teaching awards, including:
3M Teaching Fellowship recognizing exemplary contributions to teaching and learning in Canadian universities;

four Very Fine Education Technique Awards (Given by Electrical Engineering undergraduates);

two Engineering Undergraduate Teaching Awards for Excellence in Undergraduate Teaching; and

the Institute of Electrical and Electronics Engineers Centennial Medal for contributions to electrical engineering education.
The Canadian Engineers' Awards are widely recognized to be Canada's pre-eminent engineering awards. Presented annually by CCPE since 1972, they honour Canada's top engineers, teams of engineers and engineering projects. The awards highlight engineering excellence, as well as the contributions of Canadian engineers to their profession, their community and to the safety and well-being of Canadians.

The following four individuals and project also are to be honoured along with Dr. Vermeulen at a Yellowknife gathering, being held in conjunction with CCPE's annual general meeting.

The Gold Medal Award goes to Robert Gillespie, P.Eng. from Mississauga, ON, for exceptional achievement and distinction in the field of engineering. Mr. Gillespie, chairman and CEO of General Electric Canada, has served both GE and his profession for almost 50 years.

The Young Engineer Achievement Award is to be awarded to a successful young entrepreneur, Carl Breau, ing. from Amqui, PQ. At 33, Mr. Breau is the founder and owner of Mecker Technologies Inc., a firm which develops technologically-advanced wood products.

The Meritorious Service Award for Professional Service is to be presented to William Gates, P.Eng., from Halifax, NS, for his outstanding contributions to his profession. Mr. Gates, a dedicated member of the Association of Professional Engineers of Nova Scotia, has worked as a professional engineer for 42 years.

The Meritorious Service Award for Community Service is being presented to Michael Burke, P.Eng., from Halifax, NS. Mr. Burke is recognized for his exemplary volunteer contributions to countless non-profit organizations, such as the Sir Frederick Fraser School for the Blind, the Society of St. Vincent de Paul and Hope Cottage, Halifax's oldest soup kitchen.

The National Award for Exceptional Engineering Achievement is being presented to the Ekati Diamond Mine Project, designed by Simons International Corporation and owned by BHP Diamonds Inc. Located 200 km south of the Arctic Circle, this project is a shining example of teamwork. Canadian engineers from different provinces worked together in an unforgiving climate to build the largest mining project in the history of the Canadian Arctic. The National Award for Exceptional Engineering Achievement is the latest addition to the Canadian Engineers' Awards. It was created to pay tribute to outstanding engineering projects conceived by Canadian engineers and outstanding teams of engineers.

"It's such a pleasure for the Canadian Council of Professional Engineers to honour these Canadian engineers," CCPE Chair Bill Sutherland, P.Eng., said in a news release announcing the award recipients. "The contributions of Canada's engineers affect all our lives, yet their work often goes unnoticed. The Canadian Engineers' Awards are an opportunity to honour Canada's best engineers, their teamwork and the successful projects they have worked on together."