Series Tackles Registration
BY GEORGE LEE
The PEGG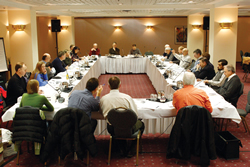 THE BOARD AT WORK
The important business of examining applicants amounts to about $750,000 in kind of volunteer work per year.
The membership journey for each APEGGA professional starts with an application to the Board of Examiners, a busy and critical component in the self-regulation of engineers, geologists and geophysicists in Alberta. This body — a group of APEGGA professionals representing a full spectrum of disciplines — keeps the proverbial bar high, protecting the public by registering only qualified individuals.
But how much does the average member know about the board?
A series of PEGG articles, starting with this one, over the next year or so will help raise awareness. The series will explain in detail every aspect of the board's role and policies.
Carefully scrutinizing each application, the board registers those individuals who meet the five requirements for licensure. It assigns exams and other requirements to those potential professionals who haven't yet reached Alberta's high standards.
The board also makes policy decisions to improve the way it addresses a steady onslaught of applications — an annual figure that's almost doubled in the last five years to over 4,000. In fact, the Board of Examiners Policy Review Task Force is studying alternative ways of evaluating qualifications for full professional status, with a view to making the process more flexible.
The board's work is widely misunderstood, within the membership and beyond.
"I think the largest misconception is that internationally educated graduates are excluded," says Board of Examiners Chair Dr. Gary Faulkner, P.Eng., a University of Alberta professor. "But that's not supported by the facts. In the order of 90-plus per cent of applicants educated and trained beyond our borders do, in fact, end up getting registered."
Another misconception is that the board's goal is to block membership. "The real philosophy is to find ways to get people registered," says Dr. Faulkner. "We don't go to the point of lowering the bar, but there is no quota system. We're not protecting jobs. We are evaluating applicants to see whether they meet the required standards.
"If an applicant has deficiencies education-wise, we try to use experience to overcome them. I think that is something that's not really perceived by people — they tend to think these are real black-and-white issues, but they aren't."
He continues: "In the cases where we spend the most time, we're looking at a combination of academics and experience to get the applicants registered."
The board strives to be as open as privacy laws allow. And it strives for fair, even treatment of every applicant. "But that doesn't mean you send your money in and you get registered," says Dr. Faulkner.
The board, created under the Engineering, Geological and Geophysical Professions Act, is at arm's length from Council, staff and the rest of the organization.
It consists of over 40 volunteer members, including professors from the University of Alberta and the University of Calgary, and experienced industry practitioners in various engineering and geoscience disciplines. It also includes three public members appointed by the provincial government. Public members attend meetings and subcommittee meetings, and actively participate in individual cases.
The applications keep coming. The full board, which looks at policy and hears appeals, meets twice a year. The board's executive committee, which examines individual applications, meets once each month, 11 months of the year. Each meeting is at least half a day long, and each member must do a day or more of preparation each month.
It adds up to a commitment of up to two days a month per board member, Dr. Faulkner estimates. That translates to about 80 person-days per month — or more than $750,000 of in-kind contribution per year by volunteer board members.
The need to examine new disciplines from a range of cultures makes the job increasingly difficult. Says Dr. Faulkner: "We try to have a uniform way of handling diverse individuals. We're faced with an unbelievable variety of people from an unbelievable array of backgrounds. And new disciplines are emerging all the time."
With Alberta's hot economy, the volume and range of applications are not likely to ease anytime soon. "We're constantly changing and revising and working to streamline our policies to get people registered," says Dr. Faulkner.
NEXT MONTH
The Five Requirements of Registration