Going Skiing? Think Dubai
BY GAIL HELGASON
Freelance Writer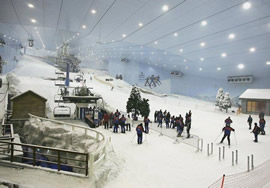 SNOWY DESERT SLOPES
Indoor skiing is coming to the Middle East. It's happening in a country with a reputation for challenging designs and engineering — the United Arab Emirates.
Skiing in the desert will be no problem come September, when Ski Dubai opens at the giant Emirates Mall. The Dubai resort will be the third largest of the world's four dozen indoor ski resorts and the only one in the Middle East, Associated Press reports.
The insulated roof of the sky-blue faux ceiling is expected to be sealed by the end of the summer. The hill will offer weary, dust-blown skiers a 60-metre vertical drop and trails that are almost 400 metres long. About 23 huge air conditioners will be revved up, as well as snowmaking jets, to clad the concrete mountain in more than 70 centimetres of snow.
All that remains to be created is some interest in skiing — a sport few locals have experienced.
Rock Haulers Wanted
Civil engineers are hard at work at Oquirrh Lake in Utah, which is expected to be the largest artificial lake ever developed in the United States for a planned community.
Civil Engineering (Reston, Va.) says the lake, located on 4,200 hectares, will have a perimeter of about eight kilometres and a water elevation of about 1,463 metres above sea level. The project began in 2005 and is to be completed by 2010.
Some 35 million cubic feet of earth will be removed from the lake bed, which will then be lined with high-density polyethylene. About 25,000 tons of rock will be brought in from nearby mines. The rock will be placed underwater to protect habitat for vegetation, fish and wildlife.
More Nano, More Sleep?
Remember how much fun it was to jump up and down on mattresses when you were a kid? It wasn't exactly good for mattresses, though.
But there's good news for today's youngsters. Researchers at the University of Florida and the Rensselaer Polytechnic Institute have discovered a nano solution, according to Mechanical Engineering (New York).
The publication reports that mattresses constructed of nano-tubes do not show fatigue. Film consisting of multi-walled carbon nano-tubes can undergo compression to one-sixth of its size and then quickly spring back without any structural damage. The article states that many new applications are possible, from cushioning pads to special coatings.
Norway's Floating Wind Turbines
Norwegian engineers have developed wind turbines designed to catch the sea wind, reports Civil Engineering (Reston, Va.). Invented by Hydro, an offshore energy firm based in Oslo, the turbines can harness the wind's energy at locations where the water is up to 700 metres deep — too deep for conventionally designed turbines.
The turbines are built with standard components, but float on a concrete cylinder filled with gravel and water for ballast.
No Excuse for Hot Heads
Sports fans at the Amsterdam Arena in the Netherlands will have a more comfortable experience on their walk to and from the parking lot, thanks to a novel heat-reducing material.
When the 51,859-seat stadium underwent a retrofit recently, the design called for the escalators from the parking lot to be placed outside the main structure, Mechanical Engineering (New York) reports. Conventional materials — glass and plastic — tend to trap heat and would have made the ride uncomfortable on a hot day.
To meet this challenge, GE Plastics developed a polycarbonate plastic material called the Lexan Solar Control Sheet. The material, which is used in fighter jet canopies, incorporates nano-scale particles that absorb infrared heating from sunlight, but do not actually block light.
Israel Desalinates
— Big Time
What is believed to be the world's largest reverse-osmosis desalination facility recently began operations in Ashkelon, Israel. Civil Engineering (Reston, Va.) says the facility will use four stages of reverse osmosis membranes to cleanse water drawn from the Mediterranean Sea.
Thinking Outside the Filter
Mechanics' lives could become a little easier, thanks to recent rethinking of the traditional oil filter. The Engineering News-Record (New York) reports that researchers at Fleetguard Inc. in Nashville have come up with a filter built with fibre-reinforced composite housing.
The housing replaces the traditional steel, which resulted in a clumsy, difficult-to-remove filter. The new design is lighter, more convenient to replace and recyclable.