Engineering Dinner a Hit
With U of C Students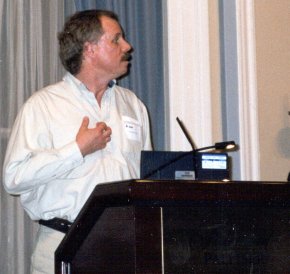 Tim Dobbing, P.Eng., a software creator at Nortel Networks
The University of Calgary Engineering Students Society held the 31st annual First and Second Year Dinner, co-sponsored by APEGGA and Nortel Networks, on March 21 in the Palliser Hotel's Crystal Ballroom. More than 300 students, professors and APEGGA members came out to discuss and celebrate the variety of career choices within the engineering profession.
For the students, who are in the process of deciding which discipline they will pursue, the dinner is an invaluable opportunity to get information, advice and wisdom from Calgary's professional engineering community. The theme of Professional Leadership, introduced by U of C Engineering Dean Dr. Chan Wirasinghe in his opening address, was reinforced by keynote speaker Tim Dobbing, P.Eng., a software creator at Nortel Networks, who spoke on the latest developments in wireless technology.

The leadership theme was also exemplified in the many excellence awards presented to professors and students who enhance and embody the engineering spirit.
APEGGA extends congratulations to student organizer David Damberger and the ESS for planning and managing this successful event, and thanks all members who came out to share their experiences with the students.