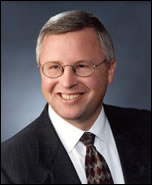 Mike Smith, P.Eng.
When a number of articles appeared in local and national newspapers with headlines that indicated that there had been some "bad engineering" on mega-projects constructed in the Fort McMurray oilpatch, APEGGA President Mike Smyth, P.Eng., took exception. Although knowledgeable in the area, but not directly involved with these projects, Mr. Smyth decided to speak with some of the key players to find out whether there is really any truth to this and, if so, if there was any unskilled or unprofessional conduct on the part of an APEGGA member or permit holder.
To date APEGGA has not received a complaint about either.
It didn't take long to establish that there are probably a host of factors that would combine to cause such huge overruns in both cost and schedule. The challenge is to determine not who is responsible, but what can be done to ensure that future projects will not suffer the same fate. More importantly, how can we give this reassurance to the investors asked to put forward the $50-70 billion it will take over the next 10 years to continue the development of the oilsands?

"We have world-class engineering and geoscience in Alberta"
-APEGGA President

The economic impact of these statements can be considerable and there are already deferrals or slowdowns that may be a direct result. The impact on the reputation of the APEGGA professions can also be compromised by this.

Said Mr. Smyth: "We have world-class engineering and geoscience in Alberta. The proof is in the fact that these projects are up and running, in excess of their design capacity, and making huge profits for owners and investors."
APEGGA is working with the Alberta Departments of Energy and Economic Development, as well as Alberta Economic Development Authority, to study the issue in more detail and determine what action needs to be taken.