BY NORDAHL FLAKSTAD
Freelance Writer
There could be an Alberta presence in the proposed Alaska natural gas pipeline. TransCanada Corp. says it's ready to carry the baton on the North Slope-to-Yukon portion of the long-discussed Alaska pipeline to bring natural gas south to the Lower 48.

The move came after MidAmerican Energy Holdings Co., controlled by prominent American investor Warren Buffett, in late March set aside plans for involvement in the $6.3-billlion US Alaska leg of the project. Inability to gain exclusive control over construction was cited among reasons for the Buffett withdrawal.
A news release says: "TransCanada looks forward to collaborating with the state and the key stakeholders to create a commercial structure that allows the project to move forward."

Another Calgary-based company, Enbridge Inc., is positioning itself as a project participant by seeking its standing under the Alaska Stranded Gas Development Act.

Oilsands Rail Plans Chugging Along
Stoked by encouragement from Premier Ralph Klein, support for a proposed $1.8-billion oilsands railroad is gathering steam. The initiatives would involve upgrading, straightening and extending the existing rail line connecting Edmonton and the Fort McMurray area. The modernized line would help move equipment to oilsands projects and alleviate pressure on Highway 63.
The Alberta Government is reportedly ready to commit $300 million to the project, as well as to related highway upgrades. A $2.5-million study is being undertaken by Athabasca Oilsands Transportation Corp. The latter's directors include Canadian Hunter Exploration founder Jim Gray, an honorary member of APEGGA.

Project director is Paul Giannelia, who, as president of the Straits Crossing Group, was a driving force behind the construction of the Confederation Bridge, linking P.E.I. and New Brunswick.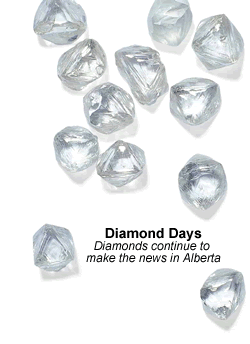 Diamond Bid Fails To Win Over BHP Billington
BHP Billington has made it clear to DGI Group, an Israeli-based diamond wholesaler, that it is in no mood to sell its stake in the Ekati diamond mine in the Northwest Territories. Not only did the Australian mining multinational, an 80-per-cent owner of Ekati, turn down the Israeli suitor, but it also has announced it's spending $22 million this year on diamond exploration in Canada.

Profitable EPCOR Plans Plant to Run On Landfill Gases

EPCOR Utilities Inc. reported a 138 per cent profit increase to $438.3 million in 2003. EPCOR attributed the increase to the sale of Union Energy, an Ontario-based provider of home water heaters. The $793.3-million selling price for Union amounts to an almost fivefold increase over EPCOR's 2001 purchase price.

Meanwhile, EPCOR is planning construction of a 4.8-megawatt plant to run on gas from City of Edmonton landfills. The proposed $7-million facility currently is subject to public discussions.

The city-owned utility has captured and sent methane to fuel generators at its Clover Bar Generating Station since 1992. However, that facility only operates intermittently, requiring gas to be flared when the plant is not running. The new, dedicated plant will have an ongoing demand for the landfill gas.
New Chance for Cheviot Coal Mine
An improving coal export market is breathing new life into the on-again-off-again plans for the Cheviot Coal mine south of Hinton, near Jasper National Park. The latest Cheviot chapter has Elk Valley Coal Co. mining coal and trucking it 22 km to the exhausted Cardinal River Mine for processing.

The proposal has been presented to Alberta Environment and the Alberta Energy and Utilities Board. Elk Valley, owned by Fording Canadian Coal Trust, plans to spend $50 million to bring Cheviot into operation to produce 1.4 million tonnes a year with a workforce of 120.
Costs Tarnish Meadowbank Gold Prospects
Higher cost estimates that "surprised and disappointed" Cumberland Resources Ltd. have the company reconsidering plans for its Meadowbank gold project, 70 km north of Baker Lake in Nunavut.

Assessments by AMEC E&C Services Canada Limited show that developing a 5,500- tonne-per-day facility on what has been described as Canada's third-largest undeveloped gold resource would cost more than $350 million. According to Kerry Curtis, Cumberland president and CEO: "These challenging factors will result in a full examination of capital cost alternatives and production throughput variations."
Canadian Hydro Catches Wind Of New Ontario Opportunity

Canadian Hydro Developers Inc. will work with a private company, Chinodin Enterprises, to develop a 240-megawatt wind power project near Shelburne, Ont.
Based in Calgary and specializing in low-impact renewable energy, Canadian Hydro Developers has three wind-operated and 10 hydro-powered generating sites. It is developing its first biomass energy plant.
Wi-LAN Expects Return To Winning Ways
Following tough financial slogging in recent years, Wi-LAN Inc. is transmitting better news.

Speaking to the Calgary-based wireless communications firm's annual meeting, CEO and President Dr. Sayed-Amr (Sisso) El-Hamamsy said: "Wi-LAN is definitely at its healthiest and with the most likelihood of succeeding in the long run."

Wi-LAN, which specializes in products and services related to high-speed Internet access, data network extension, and wireless data and telephony backhaul, raised more than $12 million in equity last fall. The company anticipates revenues of $37 million and a $500,000 profit in 2004, versus $26.8 million in revenues and a $4.6-million net loss last year.

Government Parts With Petro-Canada

Petro-Canada continued on the road toward becoming "just another oil company" with Finance Minster Ralph Goodale's budget announcement that Ottawa will sell its remaining 19 per cent interest in the corporation.

The federal government is expected to reap up to $3 billion from the sale, which concludes the process of privatization the Mulroney government initiated by selling off some shares in the former Crown corporation to the public in 1991.
Recent Oilpatch Deals Are Matters of Trust
Several energy trusts have remained in acquisition mode recently, among them APT Energy Trust, which purchased the assets of Great Northern Exploration Ltd. for $291 million.
Also joining the purchase parade was Provident Energy Trust by buying Olympia Energy Inc. and Viracocha Energy Inc. for $217.6 million and $205.9 million respectively.
Petrofund Energy Trust took a slightly different expansion path by combining with Ultima Energy Trust under an agreement whereby each Ultima unit will be exchanged for 0.442 of a Petrofund unit.
Meanwhile, Vermilion Energy Trust has agreed to sell its stake in Aventura Energy Inc. for $228 million to the BG Group, a unit of British Gas.

Better Times Ahead For Churchill Corp.
After seeing its construction divisions suffer their first loss in a dozen years, Churchill Corporation is looking to its soon-to-be-completed, $7.4-million modular construction facility at Fort Saskatchewan to help it turn the corner.
The Edmonton-based parent company of Stuart Olson Construction, Laird Electric, Fuller Austin and Triton Projects had a $3.7-million loss on revenues of $319.2 million last year. Churchill CEO Gary Bardell, P.Eng., places part of the blame for last year's setback on delay of some projects.
Alberta Forestry Keeps Growing
Despite buffeting from U.S. trade restrictions and commodity price swings, the value of Alberta forest production rose by 16 per cent last year to $3.7 billion.
The 60-member Alberta Forest Products Association attributes improvement particularly to a 30 per cent rise (to $1 billion) in the value of various types of panel board produced in Alberta. Pressures on the sector's profitability caused by U.S. softwood lumber tariffs were partly offset by raising production.
In another forestry related development, it has been announced that C&C Wood Products Ltd. of Quesnel, B.C., will acquire the Grande Cache sawmill, which Weyerhaeuser Canada Ltd. had closed in February. In a separate initiative, Weyerhaeuser said it would invest $23.8 million upgrading its Edson-oriented strand board mill.

Edmonton Ready to Hop On High-Speed Bus
Edmonton is being urged to move quickly on planning and property acquisition so it doesn't miss the high-speed bus. The Alberta capital could pull a page from Ottawa's transit map by developing a dedicated high-speed bus route and station network.
A report readied for Edmonton's Transportation and Public Works Committee and city council would see spending of $500 million to finish the current southern extension of the city's light rail transit system and similar initial spending on the first spoke of a rapid-bus transit system. A link from the existing central Churchill LRT station to the Northern Alberta Institute of Technology might become the first such high-speed-bus route.

SNC-Lavalin Edmonton Snags Alyeska Contract
SNC-Lavalin's Edmonton office has received a $28-million US contract from the Alyeska Pipeline Service Company for detailed engineering, procurement and construction management services.
The Alyeska Pipeline Service Company, operator of the Trans Alaska Pipeline System, will spend over $250 million US in a project to upgrade the pipeline's pump stations. The system transports crude oil 1,300 km from the Alaska's North Slope to Valdez on Prince William Sound.
EnCana to Buy Tom Brown Inc., Boost U.S. Presence
EnCana Corp. has solidified its position as North America's largest independent petroleum company with plans to buy Tom Brown Inc. for $3.64 billion.
Acquisition of the Denver-based firm, particularly active in the U.S. Rocky Mountain region, will increase EnCana's natural gas reserves by 1.2 trillion cubic feet, to 9.5 trillion cubic feet.