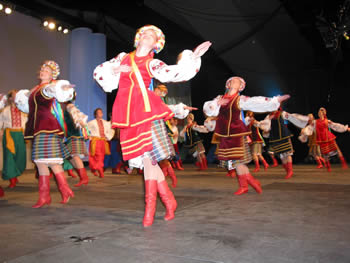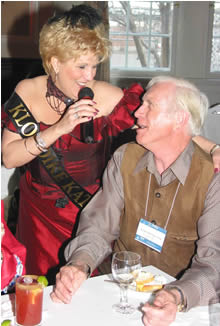 Top left, the renowned Ukrainian Shumka Dancers entertain at the annual Summit Awards® , April 23;above Klondike Kate gives Gordon Sterling, P.Eng., outgoing president of the Canadian Council of Professional Engineers, an Edmonton welcome at the APEGGA Annual Conference Fun Night, April 22; and, left, at the awards gala, outgoing APEGGA President Mike Smyth, P.Eng., (right) and wife Cindy receive a painting of Mount Assiniboine from Ron Tenove, P.Eng., the 2002-2003 president.
The Business and the Fun
Bottom left, the Ballot Counting Committee completes its work in time for the 84th Annual General Meeting. Names and photos of the new Council and Executive Committee - as well as Summit Awards winners - appear on this issue of the PEGG. Bottom right, that's gold at that thar evening. As part of the Annual Conference, attendees dress the part and pan for gold at a turn-of-the-century-themed Fun Night, April 22, which celebrated Edmonton's Centennial.