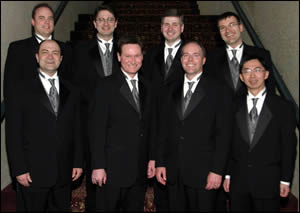 One Summit to Another


Top, the TELUS Next Generation Project team; and bottom, the cracker cleaning NOVA Chemicals teams.
BY TARA MADDEN
Public Relations Coordinator

Two 2004 APEGGA Summit Award winners will be recognized at the 2004 ASTech Awards.
The TELUS Next Generation Network Project has been announced as a finalist for the Outstanding Achievement in Applied Technology and Innovation Award, presented by the Alberta Science and Technology Leadership Foundation. The NGN Project was awarded the Project Achievement Award at the APEGGA Summit Awards, held April 23 in Edmonton.
The NGN Project is an industry-leading engineering accomplishment, involving conception, planning, design and implementation of a carrier-class single IP-based network to carry all forms of communications traffic, including voice, data and video.
The NGN provides the infrastructure required to reduce TELUS's network costs while bringing a variety of enhanced capabilities and services to customers. Eventually, it will eliminate the need for separate networks for voice, data and entertainment services.

In 2003 TELUS completed the network infrastructure and has since been migrating voice traffic onto the network.
Another Summit Award winner, NOVA Chemicals, has been announced by ASTech as the recipient of the 2004 Outstanding Commercial Achievement in Alberta Science and Technology Award. This award is given to deserving corporations having gross sales equal to or greater than $25 million per annum.

NOVA Chemicals received the Alberta Ingenuity Fund Research Excellence Award at the 2004 Summit Awards for the company's significant and innovative contributions in the area of limiting formation and deposition of catalytic coke on steam cracking coils.
The technology developed by NOVA Chemicals has resulted in a new method of modifying the surface of a stainless steel matrix to obtain a surface that is inert to coke formation or deposition in steam crackers. Over the years, this technology has gone from the idea stage to full commercialization and has improved the typical run length from 30 days to over 400 days.
Since the beginning of 2003, the technology has been offered commercially and is being marketed worldwide. It represents the most advanced surface science chemistry and is the best product on the market to reduce coke formation and deposition during the steam cracking process.
Five other APEGGA members also made the list of ASTech finalists and recipients for 2004. Dr. Hassan Hamza, P.Eng., has been announced as the recipient of the Syncrude/ASTech Innovation in Oil Sands Research Prize. Stephen Kirkham, APEGGA student member, and Dr. Shelley Lissel, P.Eng., are finalists for the Leaders of Tomorrow Award.

Dr. Gerard Lachapelle, P.Eng., is a finalist for the Outstanding Leadership in Technology Award, and Dr. David T. Lynch, P.Eng., is a finalist for the Outstanding Contribution to the Alberta Science and Technology Community Award.
APEGGA is a gold sponsor of the 2004 ASTech Awards, which will be presented at a black tie gala Oct. 15 at the Shaw Conference Centre in Edmonton.