D.A. Lindberg Centre Honours
Memory of Former President
---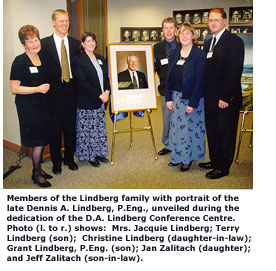 Family, friends and colleagues of the late Dennis A. Lindberg, P.Eng., gathered as an APEGGA conference centre named in his honour was officially opened on Nov. 24.
The D.A. Lindberg Conference Centre, which is dedicated to the memory of APEGGA's 1997-98 President, forms part of the APEGGA head office in Edmonton. The facility is designed to accommodate a variety of APEGGA functions and activities. Equipped with state-of-the-art audio-visual, computer and Internet access, as well as video conference capabilities, the centre will be the venue for APEGGA Council meetings scheduled for Edmonton. (The first Council meeting was held Nov. 25.) It also is expected to provide meeting space for APEGGA committees and boards, professional development seminars, issue forums, corporate receptions, discipline hearings and appeals.
During the dedication event, a framed photo of Dennis was unveiled by Mrs. Jacquie Lindberg and APEGGA President Darrel Danyluk, P.Eng. The portrait has been placed prominently in the lobby of the conference centre.
Mr. Danyluk paid tribute to the dedication that Mr. Lindberg, who be came ill during his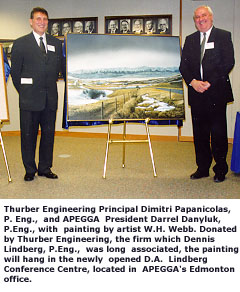 term and passed away shortly after it was completed, demonstrated to his profession over many years.
"It is because of this dedication over the years, that we dedicate this facility to his name," Mr. Danyluk told the gathering.
APEGGA Past President Dan Motyka, P.Eng., recalled the wise counsel and encouragement his predecessor provided in moving APEGGA forward in a number of areas, including toward a new governance structure. Mr. Motyka also praised the courage with which Mr. Lindberg contributed to the Association as his health deteriorated. "We remember Dennis fondly and, for decades to come, this room will remind us of Dennis."
In thanking APEGGA for the efforts that went into the centre and the dedication ceremony, Jacquie Lindberg said: "I know that the greatest honour that Dennis could have been given was to be recognized for his contributions to APEGGA, which was his passion, and to engineering, which was also his passion."
---
"WE REMEMBER DENNIS FONDLY AND, FOR DECADES TO COME, THIS ROOM WILL REMIND US OF DENNIS." APEGGA Past President Dan Motyka, P.Eng.
---
Executive Director Capital Projects Property Development with Alberta Infrastructure Hoang Le, P.Eng., brought greetings from the provincial government and Infrastructure Minister Ed Stelmach. Mr. Le noted Mr. Lindberg's efforts to develop good working relationships with the provincial government, other associations and technical societies. He added that the centre will "foster the teamwork which has been exemplified by Dennis Lindberg".
Those attending the dedication included representatives from Thurber Engineering, the geotechnical engineering firm with which Mr. Lindberg was associated for many years. Thurber Principal Dimitri Papanicolas, P.Eng., and Mr. Danyluk unveiled a painting which the firm donated to the centre in Mr. Lindberg's memory. Following the unveiling of the painting by Alberta artist W.H. Webb, Mr. Papanicolas said: "Dennis was totally dedicated to Thurber Engineering from where he practiced his profession to his fullest."
The Thurber official spoke of his firm's expansion under Mr. Lindberg's leadership. He also drew attention to his mentorship role and his ability to provide "practical, down-to-earth engineering solutions" -- especially in his special area of expertise, landslides.