Mary Ann Byrd: Variety and Challenge Key to a Fulfilling Career
---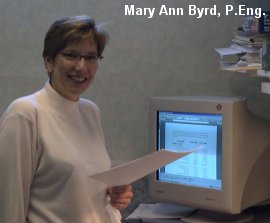 BY STACEY ANDREWS
APEGGA Public Affairs Officer
---

Mary Ann Byrd, P.Eng., has been an active and enthusiastic volunteer in the Medicine Hat Branch for more than six years. She combines her activities on the branch executive and the Outreach Program with involvement in other educational initiatives in her community. Mary Ann, who has a background in chemical engineering, recently formed her own consulting business, Systems & Engineering Consultants Ltd., in Redcliff, Alta.
Why did you choose to become involved with Outreach?
Initially I became involved with the branch executive as a way to stay active in the profession while on maternity leave. Later I focused in on the Outreach and Educational Programs as a way to encourage interest in science to my two sons, and to show them science could be fun. I also feel it is important to give something back to the community. The educational programs encouraged by APEGGA also fit in well with some of the other volunteer organizations I participate in (Regional Science Fair judging, Operation Minerva, volunteering at my children's schools).
What particular aspects of Outreach do you enjoy?
I enjoy the interaction with students. Their enthusiasm is contagious. I enjoy feeling like I might have played a small role in fostering a situation where they feel a sense of accomplishment.
What inspired you to become an engineer?
I enjoyed high school chemistry. I also had female chemistry and physics instructors in high school who probably encouraged me to pursue my interest.
What do you most enjoy about your profession?
I enjoy the variety of projects I work on. No two jobs are the same. Everything can be different from the process to the physical location. Trouble shooting and problem solving provide the challenge to maintain interest in my job. Some of the most challenging problems, aside from sometimes working outside when it is cold (still have not completely adjusted from the moderate climate I was raised in) is meeting project deadlines, especially on larger projects when the outcome depends on input from several sources.
What are some of your hobbies and interests?
In my free time I like to spend time with my family and friends and travel, especially to the southern States to visit extended family. I also enjoy reading and exercising, particularly water activities such as swimming, and feel the discipline of engineering helps me maintain the commitment to staying healthy.
Do you have a personal motto?
Never take yourself too seriously.