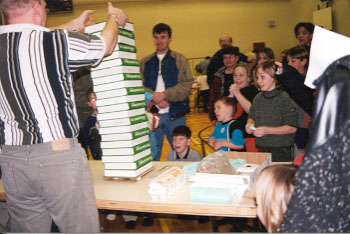 Egg-citement Builds - as APEGGA volunteer
captivates parents and children at
APEGGA-sponsored Science Night in Grande Prairie
The Magic
of Outreach
---
By Jeanne Keaschuk
APEGGA Outreach Coordinator
---
How many books will three eggs hold? Is it magic? No, it's science. The science that engineers and geoscientists use everyday to do amazing things!
Approximately 400 APEGGA outreach volunteers around the province worked their magic this year and turned more than 20,000 students, even adults, on to the fun of science and the wonders of engineering, geology and geophysics.
The volunteers in the Outreach Program are special, talented and hands-on people. They are university students, members-in-training and professional members. They help out at career booths and in classrooms, making science and career presentations; they judge science fairs and competitions like the
These students from St. Teresa of Avila School in Red Deer were among the winners in the APEGGA-sponsored Balloon Buggie Event held as part of National Engineering Week, an important Outreach program held this year March 4-11.
Science Olympics, present awards, help with career interviews, and support teacher conventions. They care about their professions, science and education and support them with their time and talent. They enjoy their jobs, are proud of their work and are happy to talk about them. They have a sense of humour, are creative and playful, and like working with students. Outreach volunteers reach out to students, teachers, and communities to communicate the importance of their work and to give a name, face, and visible presence to
the professions of engineering, geology and geophysics. They do AWESOME work as these comments from students, teachers and parents attest.
"All the rocks and minerals were beautiful. The dinosaur fossil was cool. Last night I told my mom and dad all about your visit." "I liked when you taught us about engineers. That was so cool! Thank you for helping me learn about force, friction and inertia." "Thank you for teaching us new things. I bet our teacher didn't even know some of the things you said."
"Fabulous presentation. He was right on with the materials; they added practicality and realism." "It was more than just a demo or a review - it was a real lesson." "Your hands-on activities were thoroughly enjoyed by my students and were an enrichment of the activities already completed in class. I appreciate your time and knowledge and hope to see you next year."
"Many of the volunteers talked about engineering, geology and science. My children and I learned so many things that we didn't know before. The next day, they were still talking about all the activities and fun. This was a great thing for APEGGA members to do. As a parent, I would like to say how much I appreciate it."
These kinds of results aren't magic. They are the result of the excellent efforts of Outreach volunteers. APEGGA extends its sincere thanks to them all.
Become Part of the Magic

More volunteers are always needed for this province-wide program. In some larger cities, the current volunteer pool cannot meet the demand from teachers. Find out more about the program and volunteer today at APEGGA's website: www.apegga.org.

You can also contact APEGGA Outreach:
Calgary
Phone: 262-7714
E-mail: sandrews@apegga.org
Edmonton
Phone: 426-3990 Toll free: 1-800-661-7020
E-mail: jkeaschuk@apegga.org