Edward A. Silver, Sc.D., P.Eng., was recently selected as a fellow of the Institute for Operations Research and the Management Sciences. Dr. Silver is a faculty professor at the University of Calgary's Haskayne School of Business. He received his bachelor of civil engineering degree from McGill University and a science doctorate in operations research from the Massachusetts Institute of Technology.

Dr. Silver has held visiting positions at many prestigious educational institutes around the world. He has also consulted and provided executive training and other workshops for a wide range of organizations. His research and consulting activities have centred on the analysis of tactical and strategic problems arising in the management of operations. Specific areas of application have included inventory management, process improvement, production planning, supply chain management, and the use of quantitative modelling to aid in decision-making.

The Institute for Operations Research and the Management Sciences represents professionals in operations research and the management sciences. The INFORMS Fellow Award goes to individuals who have demonstrated outstanding and exceptional in the fields.
Calgary Geophysics Researchers Land Top Professional Award
The Society of Exploration Geophysicists has awarded its Distinguished Achievement Award to a University of Calgary research group. The Consortium for Research in Elastic Wave Exploration Seismology, or CREWES, conducts research on the acquisition, analysis and interpretation of multi-component seismic data.

CREWES is supported by government and industry sponsors, and it shares its research findings and high-tech innovations with them. It's made major advances in the use of three-component recordings of three-dimensional wave responses. This research provides a clearer picture of not just what geological structures are below the Earth's subsurface, but also what types of rocks and fluids make up those structures.

CREWES comprises six professors, 12 research staff and some 40 grad students from countries all over the world and a range of industry backgrounds.

The Society of Exploration Geophysicists is an international professional society with 17,000 members in 110 countries. Based in Tulsa, Okla., the society fosters and promotes expertise and ethical practice in geophysics. SEG's annual conference was in Dallas last month and U of C researchers had a significant technical presence there, presenting research papers and posters to delegates.

The Distinguished Achievement Award salutes groups that have substantially advanced the science of exploration geophysics.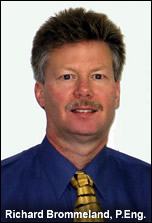 Nanotechnology Institute Hires Business Development Officer
Richard Brommeland, P.Eng., has been appointed business development officer for the National Research Council's National Institute for Nanotechnology, located at the University of Alberta in Edmonton. Mr. Brommeland's responsibilities will involve the commercialization of nanotechnologies developed at the institute, and developing business programs and collaborations with industries in Alberta and Canada. He has worked as a technology broker and worked with small- and medium-sized businesses across Western Canada in technology commercialization and business management.

APEGGA Members Named to Alberta Venture Lists
Alberta Venture released its seventh annual list of Alberta's 50 Most Influential People in its July/August edition. As well, September saw the presentation of the Venture100 list of Alberta's 150 largest public, private and Crown corporations.
The influential people list comprises industry leaders, political masters, academics and philanthropists. The following APEGGA members are among them.

Tony Franceschini, P.Eng.
President and CEO, Stantec Inc.

Michael Grandin, P.Eng.
Chair and CEO, Fording Canadian Coal Trust

Richard Haskayne, Honorary Member
Chair, TransCanada Pipelines Ltd.

Harry Hole, P.Eng., and J.F. Hole, P.Eng.
Partners, Nunastar Properties Inc.

Doug Kelly, P.Eng.
President, Urban Development Institute Alberta
Senior Vice-President, Carma Developers Ltd.

Hal Kvisle, P.Eng.
President and CEO, TransCanada Pipelines Ltd.

Gwyn Morgan, P.Eng.
President and CEO, Encana Corp.

Eric Newell, P.Eng.
Chair and CEO, Syncrude Canada Ltd.

Clay Riddell, P.Geol.
Chair and CEO, Paramount Energy Resources Ltd.
Venture100 lists are compiled with the research and assistance of PricewaterhouseCoopers LLP. The lists rank Alberta's 150 largest public, private and Crown corporations by revenue.
PricewaterhouseCoopers compiled the 2003 list using responses completed by Alberta-headquartered companies, as well as publicly available sources of information. The following companies - either APEGGA permit holders or companies closely tied to permit holders - made the top 20 of the Venture100.
1. Encana Corporation
2. Petro-Canada
3. Shell Canada
5. Husky Energy Inc.
8. TransCanada Pipelines Limited
9. Suncor Energy Inc.
10. NOVA Chemicals Corporation
11. Enbridge Inc.
12. Talisman Energy Inc.
14. Canadian Natural Resources Limited
15. Agrium Inc.
16. Syncrude Canada Ltd.
17. ATCO Ltd.
18. Nexen Inc.
19. PCL Construction Group Inc.

2003 Consulting Engineering Awards
The annual Canadian Consulting Engineering awards are the most important national mark of recognition for Canadian consulting engineering firms. The following awards of excellence were presented to APEGGA permit holders:
Category: Environmental
EBA Engineering Consultants Ltd.
Category: Studies, Software and Special Services
Genivar Inc.
Category: International
Golder Associates Ltd.

BW Technologies Announces Acquisition of U.S. Based Company
BW Technologies Ltd. is acquiring the outstanding shares of a U.S. leader in gas detection systems. Manning Systems has been designing precision gas alarm and leak detector safety equipment for the refrigeration market since 1981. The company specializes in gas detection systems for ambient air monitoring of ammonia used in food storage and processing facilities; its systems also monitor for carbon dioxide, chlorine, refrigerants and carbon monoxide.

Manning Systems will maintain its operation in Lenexa, Kan., and its products will continue to be sold from there under the Manning Systems trademark.

BW Technologies Ltd. is known for its reliable, innovative and cost-effective equipment, and has been responsible for setting many industry standards that exist today. It has followed up its record fourth quarter of fiscal 2003 with strong year-over-year revenue growth in the first quarter of fiscal 2004. This is the 16th consecutive quarter of year-over-year revenue growth.

Meanwhile, Oilweek Magazine has honoured BW Technologies Ltd. with its best website award in the oil and gas services and supplier category. The site was judged alongside numerous multi-national companies, and was recognized for design, functionality and written content.
Equinox Engineering Ltd. was the presenting sponsor for the Boo at the Zoo , Oct. 23 to 30 at the Calgary Zoo.. On Oct. 26 the company hosted close to 700 guests at for an evening of food and fun at the zoo's Safari Lodge. After the meal more than 300 kids travelled throughout the zoo grounds to take part in all the Boo at the Zoo Halloween activities. About 100 APEGGA members attended with their spouses and children. Donations were collected for the Calgary Food Bank. Above, from left, are Dean Lubarsky, P.Eng., Equinox president, with daughter Lauryn; and Scott Froggatt, Equinox director of sales, with daughters Jeanine and Ali.