It's Official
APEGGA President Mike Smyth, P.Eng., looks on while Executive Director and Registrar Neil Windsor, P.Eng., stamps the oath of office with the official seal, during the AGM in Calgary April 26 (top). Past President Ron Tenove, P.Eng., seals his new role by putting on his freshly minted past president's vest (bottom). Usually the vests are tartan designs, but this design reflects Mr. Tenove's Swedish ancestry.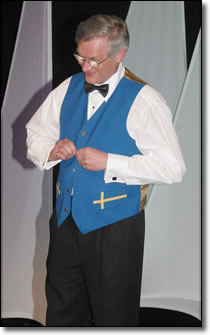 Can one or two words sum up the whirlwind of challenges, meetings and travels that take over the life of the president of Alberta's largest professional association? The ones Ron Tenove, P.Eng., used to describe his year at the top are "extreme sport," as he passed the torch to President Mike Smyth, P.Eng., at the 83rd APEGGA Annual General Meeting last month in Calgary. In other words, the challenges are extreme, the risks are extreme - but so are the rewards.

Mr. Smyth took his oath of office April 26 to become the 84th president, before about 100 people at the AGM. The man he replaces predicted good things to come in a year that will see the Association top the 40,000-member mark.

Mr. Tenove said he, Mr. Smyth and Past President Dale Miller, P.Eng., were a good mix on the 2002-2003 Executive Committee. "We learned to work together as a team and draw out each other's strong points," he said.

Mr. Tenove also praised Executive Director Neil Windsor, P.Eng., for his guidance. And he thanked his wife Pat, as well as Council and staff, for their support.

"I was faced with a whirlwind of activity when I took office," said Mr. Tenove. Ongoing issues competed for the top of his agenda. They revolved around the continued dramatic growth of the Association, emerging disciplines, technologies and licensure, and calls for greater ease of movement between jurisdictions for APEGGA professionals.

"It suddenly seemed like there were a lot of issues on my plate and they all required my immediate attention," said Mr. Tenove, a director with Focus Corporation. "But what I've learned is that leadership is not about issues. It's about people."

The role of president and Council is good governance, and the presentation of policy and direction. Then the entire APEGGA team addresses the issues, Mr. Tenove said.

"It's been a privilege and highlight of my career to be president," he said. He looks forward to "a busy and exceptional 2003-2004 and beyond."

The new president is well equipped for the challenge. Mike Smyth is a good communicator, listener, researcher and consensus-builder, yet at the same time "very action-oriented," said Mr. Tenove.

Mr. Smyth, a 46-year-old senior project manager with Optima Engineers and Constructors, congratulated Mr. Tenove on "an outstanding job" as president. He singled out Mr. Tenove's successes in better defining APEGGA's advocacy role, strengthening ties with the geoscience community and overseeing a management restructuring that "will serve us well."

The outgoing president has done an exceptional job of team building within the APEGGA Executive Committee, Council and staff. "On behalf of everybody, well done," said Mr. Smyth.

Mr. Smyth brings to the job more than 15 years of APEGGA service, including four years on Council. Most recently he's worked on the Licensure Task Force and the Advocacy Task Force. The Calgary resident has been a member of various other APEGGA committees, including the Council Governance Subcommittee and the Investigative Committee. He and his wife Cindy, a teacher, have four children.