BY HEATHER FRANTZ
Public Relations Coordinator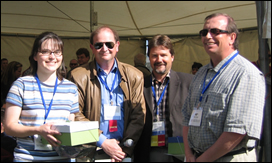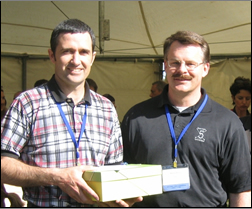 Faces of Success
Top, Michele Asgar-Deen accepts the Andrew Baille Award for best student paper, from representatives of the CSPG, the CSEG and the CSPG Educational Trust Fund; bottom, winners of the award for best integrated paper, from left, Mike Doty, P.Geoph., and Barry Hebner, P.Geol.
About every four years, the Canadian Society of Petroleum Geologists and the Canadian Society of Exploration Geophysicists join forces to provide geoscientists with a convention that showcases their professions. This year was such a year, and the magnitude of the event gave evidence to the important role geologists and geophysicists play in our community.
The 2003 CSPG/CSEG Convention was held June 2 - 6 at the Round Up Centre in Calgary. This year's theme, PARTNERS in a New ENVIRONMENT, reflects the way the geoscience community is pulling together to face an ever-changing future. "We took up the theme to recognize the increasing requirement to work with a wide range of stakeholders in an environment of constant change," says Wayne Foo, P.Geol., 2003 CSPG General Convention co-chair.
More than 4,300 people took part in various convention activities. They included 3,100 technical delegates and 900 exhibitors, along with 300 students and other participants. Convention organizers say these attendance numbers are consistent with past joint conventions between the CSPG and CSEG.
The convention offered a mixture of activities, both educational and social, which allowed participants plenty of opportunity to further their knowledge while interacting with their fellow geoscientists. Presentations, courses, field trips and exhibits offered delegates more than five full days of geoscience information to absorb.
A selection of courses and field trips were offered prior, during and post convention. Short courses in a wide range of topics allowed participants to increase their knowledge in geology, geophysics or both, while field trips throughout Alberta, British Columbia and even Montana provided a chance to view some of the region's spectacular geological systems.
More than 260 oral presentations and 68 posters were presented during the technical program, June 2-4. As well, another 15 presentations were made during the Core Conference held June 5 & 6 at the AEUB Core Research Centre. (See Page 11 of this month's PEGG for a feature on the centre or click here to view it on the website.)
Numerous awards were handed out to recognize outstanding geoscience research presented in the technical program. Judges included peers and session chairs, as well as randomly selected convention participants. (See the winners list accompanying this story.)
The exhibits portion of the convention, June 2-4, featured more than 100 booths for participants to view. A wide range of associations and services from across Canada and the United States were represented. Two exhibit halls at the Round Up Centre, as well as outdoor space, were needed to host this large number of exhibits.
Convention delegates were treated to a number of special events throughout the week as well. An icebreaker held on the exhibit floors started off the festivities, while the Core Meltdown/Wind-Up Party at the AEUB Core Research Centre allowed participants to meet fellow geoscientists and discuss the week's activities in a fun and informal setting. Breakfast events, luncheon speakers, and other receptions kept participants busy throughout the convention.
As soon as this year's events wrapped up, preparations were already being made by each society for their 2004 conventions. Next year's CSEG convention is scheduled for May 10-14 at the TELUS Convention Centre in Calgary. The CSPG will hold a joint convention with the Canadian Well Logging Society and the Canadian Heavy Oil Association. It will take place May 31-June 4 at the Round Up Centre in Calgary.


MORE INFORMATION
Information on next year's convention events
CSPG
Visit www.cspg.org
CSEG
Visit www.cseg.ca